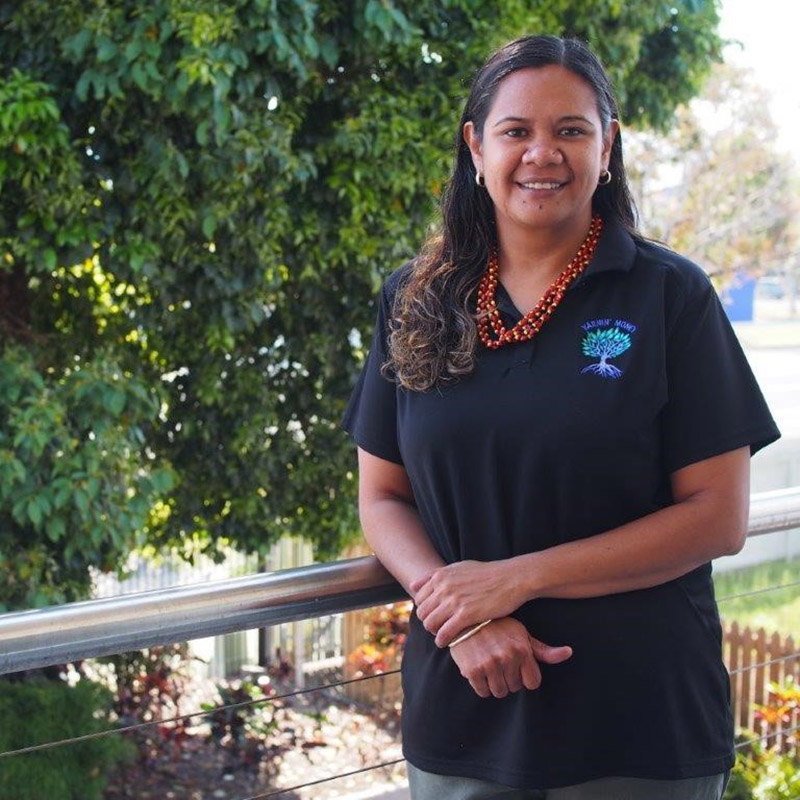 Elise recently joined ICAN as a member of the Thrive team and has just commenced her Diploma of Financial Counselling studies thanks to the Commbank/ICAN Learn Indigenous Scholarship Program. Elise is on a mission to break down barriers, change lives, and make her family proud.
Welcome Elise!  Can you tell us a bit about yourself?
I am a proud Gugu Yimithirr (Hopevale) woman from the Thiitharr Warra clan group on my dad's side; and Bandjin (Hinchinbrook Island) and South Sea Islander from my mum's side. Born and raised in Cairns, I'm a mother of one, and I also care for my niece, who has Autism Spectrum Disorder (ASD).
What were you doing before you came to ICAN?
I previously worked in legal services. After 14 years in the role, I was ready for a new challenge where I could continue to grow and develop my skills.
What made you apply for the Financial Counselling Scholarship?
I was looking for traineeships for my son and came across the job with ICAN for a Yarnin' Money Mentor.  I thought it suited me as I love budgeting and discussing finances, so I applied for the traineeship instead! Having the chance to complete the Indigenous Financial Counselling Scholarship is a pivotal moment for my personal growth and professional development.  In my previous role, I saw a lot of financial hardship resulting in criminal activity, loss of licence or employment, or finances spiralling out of control with excessive SPER debts [government fines].  I want to be a vehicle for change for my people, and this scholarship provides that opportunity.
How do you feel about studying again?
The challenge has been accepted! As a mature student with life experience, I feel more confident in myself now than when I was in school. I recently completed the Financial Capability Education Skill Set, so I am currently working as a Yarnin' Money Mentor with the ICAN Thrive team, delivering financial literacy education to First Nations people while I complete my Diploma of Financial Counselling. I want to keep increasing my knowledge and skill sets, inspire my family, and make my parents and son proud.
What's the best thing about your new role so far?
The best thing for me has been travelling out to community and observing how the ICAN Thrive sessions are delivered. I love being part of a team that provides financial literacy education, planting the seed of how to budget and make savings goals, and empowering our people to feel more confident about building a better relationship with their money and creating generational wealth. As First Nations peoples, we didn't deal with currency. We had systems in place for living off the land and sea and travelling long distances to trade goods. It was a minimalist lifestyle full of meaning, belonging, and storytelling. We are still learning this Western way of handling our money. It's not something to be ashamed of.
Has anything surprised you about the job?
I have been surprised by how much I am learning about myself and the overwhelming support, guidance, and professional development opportunities I receive from ICAN. I am very grateful; it only makes me want to work harder.
Why does the sector need more Indigenous Financial Counsellors and Financial Capability Workers?
There is a high need for more Indigenous financial capability workers and financial counsellors in this sector to empower our people to feel more confident and make informed decisions around their money. We need more First Nations people in these roles because we know the barriers our people face daily.
What would you say to a First Nations person considering an ICAN Learn Scholarship?
Don't hesitate – it's an excellent opportunity to change lives, break barriers and create change for their community, family, and themselves.
What are you passionate about?
I am passionate about my family, culture, education, and my own self-development to help others along their financial journey. I am putting the work in today to create generational wealth for my future lines to help them find their purpose in life. My parents instilled their work ethic, family values, and the ability to overcome barriers with a 'we can do this' attitude. I feel that my life is the fruit of their labour, for which I am truly thankful.
Interested in a Commbank/ICAN Learn Scholarship? Find out more here
Or join ICAN Learn's free Course Information session here