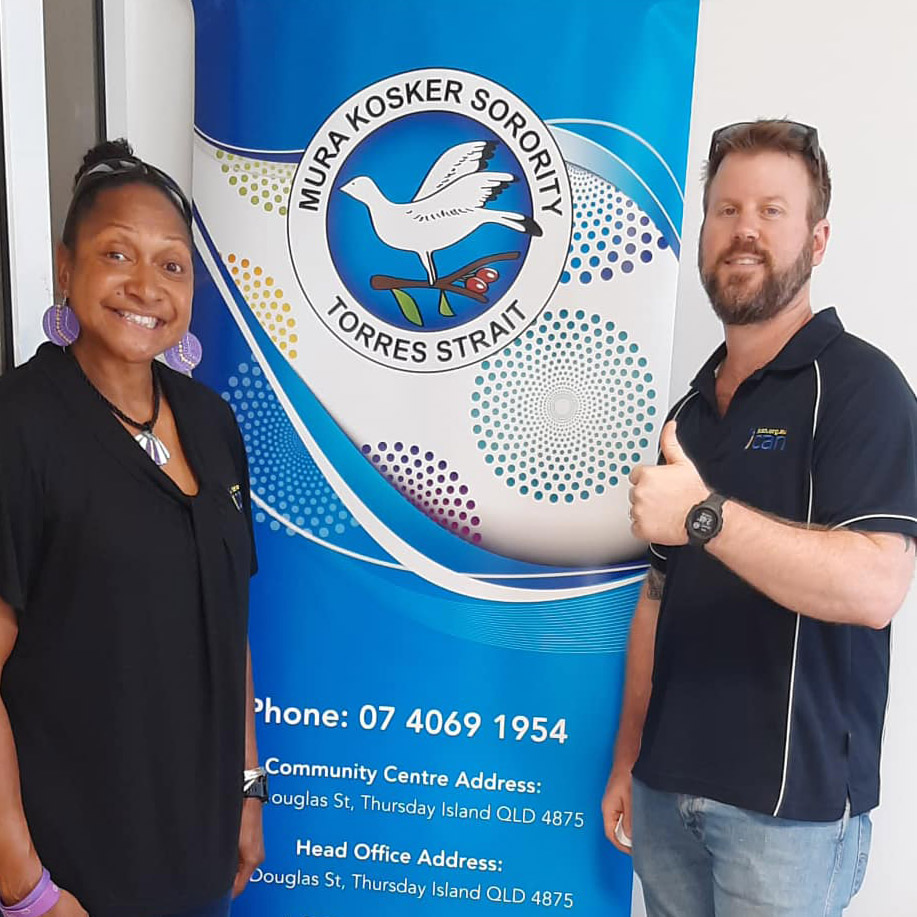 ICAN Financial Counsellors Unaisi Buli and Zack Wildy visited Thursday Island this month to talk with people in the community who had purchased goods from Telstra. Their visit was a result of remediation funding provided by Telstra to explore mis-selling and misconduct at their retail stores, which targeted First Nations consumers across Cape York and the Torres Strait.
"In 2021, Telstra were fined $50 million for mis-selling to Indigenous consumers at stores in Western Australia and the Northern Territory", Zack said. "As a result of this fine, Telstra provided funding to financial counselling services like ICAN to find out if the same thing was happening elsewhere in the country.
"The text-book case is that someone went into a Telstra store for something basic like a credit recharge or a simple plan, and walked out with a phone, tablet, headphones, Bluetooth speaker and any number of other products or services that they likely could not afford, did not need, or could not use".
So far ICAN have identified 30 cases of mis-selling and expects that there are more to come.
Telstra Refunds, Compensation
Unaisi said, "Although a lot of time may have passed since someone visited a store, or even if the debt was waived or written off, the account can still be found and people may be eligible for refunds, removal of credit defaults, and in some cases, compensation for undue harm and distress.
"A significant portion of the people we see who have experienced this misconduct have advised of feelings of shame, anxiety, guilt, embarrassment, and fear, especially when debt collectors become involved. In these cases, compensation can be awarded in the thousands of dollars."
ICAN has said that although it appreciates the efforts that Telstra have made to address this conduct themselves, for example, via regional outreach visits in the Telstra Pink Bus and by waiving debts based on postcode information, they do not feel that this has done enough to address the harm caused by the mis-selling.
Zack explained, "We are seeing people who visited the Pink Bus or had a debt waived another way, and that is great, but when they could be entitled to thousands of dollars in refunds or compensation, it does not seem like they are getting a fair deal.
"We are really interested in speaking to people who may have visited the Pink Bus or had a debt with Telstra not only to ensure that they receive what they are entitled to under the remediation agreement but also so we can gather cases that may lead to a pro-active response from Telstra to address the misconduct, separate from what happened in WA and the NT," said Zack.
In addition to cases of miss-selling in these regions, ICAN also received significant feedback from the people we spoke to about Telstra's general poor engagement with remote communities, including network coverage.  Telstra's inadequate network coverage impacts individuals, businesses, and emergency services, yet residents are charged the same price as the wider Australian community while getting only a fraction of the service.
Zack said, "ICAN plan on visiting Yarrabah in October and would like to speak to anyone in the community who purchased goods from a Telstra shop.  People can keep an eye on our socials for more details about our upcoming visit or drop in and see us at the ICAN Yarrabah office."
ICAN have offices in Cairns, Townsville and Atherton and have provided financial counselling support to mob across North Queensland for over 15 years.  If would like to speak to us about something you purchased from a Telstra shop, please contact ICAN on 1800 369 878 (free call).
Read our March 2023 Telstra story here.