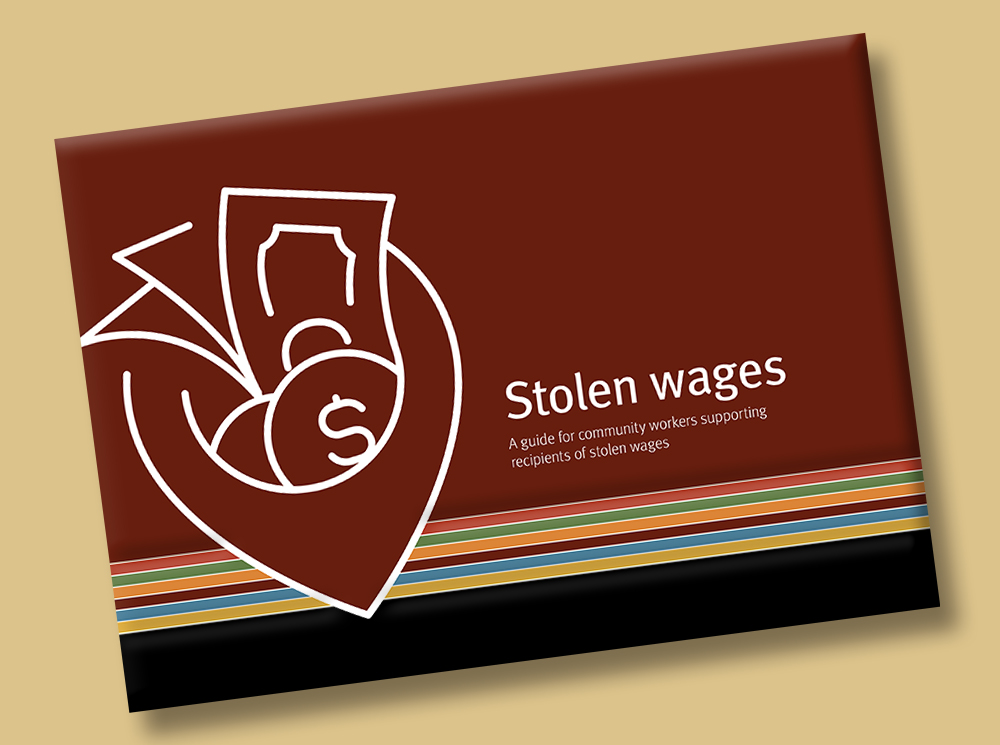 A new information guide titled Stolen Wages: a guide for community workers supporting recipients of stolen wages is now available to help claimants of the Stolen Wages Settlement Scheme – and Community Service Providers who support them – navigate the financial, consumer, credit and debt issues that they may encounter and understand their rights and responsibilities regarding these.
The guide is produced by the North Queensland Consumer Taskforce to support community workers providing assistance to claimants and registered representatives of payments under the Stolen Wages Settlement Distribution Scheme.
"We are pleased to provide this guide for people receiving Stolen Wages Settlement monies," said Jillian Williams, ICAN Operations Manager and North Queensland Taskforce Member. "We wanted to ensure that there was information for people receiving Stolen Wages about the options and support available to them when it comes to using their money the way they want to use it."
"It's really important that our mob know this information," said Carmen Hegarty, Claimant of the Scheme. "I felt mixed emotions when receiving my letter that I was entitled to some money, as my Dad is not here to benefit from the money that he worked for.
"So, to have this information guide produced in such a way that it does not have all that legal jargon around it, plain & simple to read and understand is so helpful for me and for other Aboriginal & Torres Strait Islander people," she said.
Ms Williams noted the need to provide preventative strategies within the guide, to avert potential consumer exploitation. "We wanted to warn people about exploitative business practices and scams that can result in people losing their money."
Office of Fair Trading Regional Manager for North Queensland Len Curran said the guide is a timely resource for service providers.
"It is vitally important that financial counsellors and community workers have the most up to date information available about government agencies and support organisations, and the services they can provide, so they can assist their clients quickly and easily."
"Regrettably, the OFT sees many people who are ripped off by scammers, through high-pressure selling tactics and other exploitative business practices," Mr Curran said.
Ms Williams said the guide provides tips for buying cars, boats and other assets. "We wanted to stress that people buying items such as cars and boats, get these items checked to ensure they work before they buy them," she said.
"Unfortunately, ICAN sees too many people who receive lump sums purchase vehicles that don't work or don't meet their needs," said Ms Williams. "Often they will be given an unaffordable loan if they can't afford to pay for the vehicle up front."
Claimant of the scheme and Kubirriwarrra Yalanji Traditional Owner Daphne Naden stressed the importance of mob understanding how the settlement monies impacts on other financial obligations and payments. "The Stolen Wages guide is extremely important as it contains information people need to know about, such as Centrelink and Tax implications," said Daphne.
"It's a must read for anyone receiving a payment."
The guide provides information for people who are in receipt of a Centrelink payment, helps people understand whether or how the settlement monies will affect their payments, and provides key information on navigating tax implications with the Australian Tax Office.
The education guide is a collaboration of the many government and community members that comprise the North Queensland Taskforce.
"It has taken a phenomenal collaborative effort to bring together the information published in the guide and we are thankful to ICAN for leading this work," said Jaymee West, Indigenous Outreach Program Policy Advisor at the Australian Securities and Investments Commission (ASIC).
"The guide is a great achievement by the Taskforce, which the Indigenous Outreach Program at ASIC is proud to be a part of," she said. "It demonstrates what can be achieved when genuine partnerships are formed, with the interests of communities at their centre."
The North Queensland Consumer Taskforce is a collaboration of community and government agencies, regulators and Ombudsman schemes, working together to advance the wellbeing of community members across North Queensland. The Taskforce provides community-led, coordinated community, government and regulatory responses to systemic consumer issues impacting on North Queensland communities.
Background on the Stolen Wages Settlement Scheme
In September 2016, a class action was issued on behalf of Stolen Wages claimants in Queensland, led by Mr Hans Pearson. Bottoms English Lawyers acted on behalf of Mr Pearson and the claimants. The class action was settled in September 2019 and approved by the Federal Court on 17 January 2020 for $190 million.
As a result of this settlement, approximately 11,000 Aboriginal and Torres Strait Islander peoples will each receive a lump sum payment under the Stolen Wages Settlement Distribution Scheme. These monies are due to be distributed between late November and 6 December 2020. Bank account details can be updated prior to payment www.stolenwages.com.au.*
Download the Stolen Wages: a guide for community workers supporting recipients of stolen wages.
*North Queensland Consumer Taskforce. (2020). Stolen wages: a guide for community workers supporting recipients of stolen wages, p. 3.