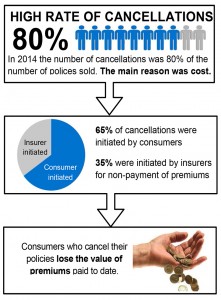 On October 08, 2007, ICAN condemned Centrelink in The Australian newspaper after a funeral insurance company with a history of adverse court judgments was granted approval to access Aboriginal' welfare payments. At the time, the Aboriginal Community Benefit Fund (ACBF) and associated companies had more than 30,000 policyholders, and about 12,000 of those paid their premiums directly through Centrepay.
ICAN CEO Aaron Davis said, "8 years on, 2 Centrepay inquiries and 1 ASIC funeral insurance report later, we have a government that has acknowledged the evidence and is prepared to take funeral insurances off Centrepay once and for all." In an ABC interview that aired on Saturday 21st of November, Federal Human Services Minister Stuart Robert categorically denied ACBF's claim that they were working with the department to remain on Centrepay. "I am not going to review the decision, the decision is made. It is being implemented," he said. "It's extraordinary that any company would seek to go into remote communities, vulnerable Australians and seek to sell a product to people under 15."
The funeral insurance report released by ASIC in late October this year, exposed a number of consumer issues. ASIC Deputy Chair Peter Kell said, "The high rate of cancellations points to problems not only with cost, but the design, marketing and sales of funeral insurance. It appears that many consumers do not understand important features of the product until after they have signed up."
In 2014, the number of policies cancelled was 80% of the number of policies sold. Nearly 55% of cancellations occurred during the first year of the policy. Consumers initiated 65% of the cancellations while insurers initiated 35% for non-payment of premiums. The main reason for cancelling was cost.
While over half of consumers with funeral insurance were aged 50-74, policies held by Indigenous consumers had a much younger profile, with half (50%) aged under 20. A higher proportion of Indigenous consumers also had their policies cancelled for non-payment of premiums, losing the value of premiums already paid.
"ICAN hopes the exclusion of funeral insurances from Centrepay will disrupt their unfettered access to welfare payments intended to cover life's essentials. I stand by what I said back in 2007, it is a perverse situation when babies are signed up to funeral funds, having a whole life to live," Mr Davis said. "There is obviously a market need for an ethical financial product that assists families to pay for expensive funerals in regional and remote Indigenous communities and ICAN plans to develop a solution with government, industry and community partners."
Source:
October 8, 2007 – The Australian  http://www.theaustralian.com.au/archive/in-depth/centrelink-slammed-over-aboriginal-funeral-deal/story-e6frgd9f-1111114593021
May 26, 2015 – ICAN E-News http://ican.org.au/ican-supports-funeral-insurance-exclusion-from-centrepay/
October 29 – ASIC Media Release, 2015 http://asic.gov.au/about-asic/media-centre/find-a-media-release/2015-releases/15-315mr-asic-report-on-funeral-insurance-highlights-increasing-premiums-and-high-cancellation-rates/
November 21, 2015 – ABC http://mobile.abc.net.au/news/2015-11-21/aboriginal-babies-being-signed-up-to-shocking-insurance-schemes/6958342
November 23, 2015 – ABC http://www.abc.net.au/news/2015-11-22/aboriginal-funeral-insurance-schemes-to-be-probed/6961870?WT.ac=statenews_nt&utm_content=buffer86515&utm_medium=social&utm_source=twitter.com&utm_campaign=buffer