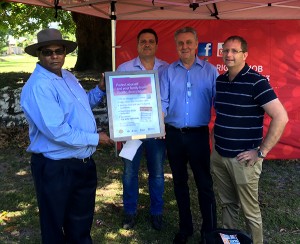 2017 has been a very special year for ICAN. This year, we celebrated 10 years of incorporation and reflected upon our growth as a financial counselling, training and consumer advocacy organisation dedicated to Empowering Indigenous Consumers. In this edition, we look back on 2017…
In March, ICAN joined the Financial Inclusion Action Plan (FIAP) program led by Good Shepherd Microfinance on behalf of the Australian Government, in partnership with EY and the Centre for Social Impact. As part of this program, ICAN along with 29 other organisations across business, government, academia & the community sector have come together to identify and take practical actions to promote financial inclusion and resilience in Australia. We launched our Statement of Commitment in June and are currently undertaking the development of our Foundation FIAP.
In April, we worked with Financial Counselling Australia's (FCA) Aboriginal and Torres Strait Islander Workers Forum Steering Committee to co-produce their 10-year Anniversary video! ATSI Forum Steering Committee members spent a week at the ICAN office, working on script development and filming. The 10-year Anniversary video premiered at the FCA Conference held on the Gold Coast in mid-May.
In April, we saw a final win for the Yarrabah community, when Cairns-based lender, Channic Pty Ltd (Channic), broker Cash Brokers Pty Ltd (Cash Brokers) was fined a total of $776,000 by the Federal Court for breaching consumer credit laws. The Court also ordered the payment of costs of $420,000. Channic and Cash Brokers both operated from Supercheap, a used car dealership in Cairns which was also owned by Mr Hulbert. ASIC brought civil penalty proceedings after the Indigenous Consumer Assistance Network (ICAN) reported that Channic and Cash Brokers were dealing unjustly with vulnerable Indigenous consumers from the remote community of Yarrabah. It is a long-standing matter that ICAN has been involved with since we first took complaints from the community in 2009 and brought the matter to ASIC. A big shout out to Nathan Boyle and the Indigenous Outreach Team for their longstanding commitment to Yarrabah residents on this matter and the win they've achieved with the community!
Throughout the year, the work undertaken by the North Queensland Indigenous Consumer Taskforce – a partnership between ICAN, ACCC, ASIC, the QLD Office of Fair Trading (OFT) and several community organisations – continued with four Do Not Knock-Informed Towns being established across Queensland. On May 9th, the Yarrabah Aboriginal community launched their Do Not Knock campaign, unveiling their new roadside signage designed to warn door-to-door traders not to trade unlawfully. The Yarrabah launch and the Do Not Knock initiative was discussed in the recent Knock it off! report, released by the Consumer Action Law Centre, WEstjustice and Loddon Campapse Community Legal Centre on November 20th this year. On November 14th, the Palm Island community launched their Do Not Knock campaign. ICAN's Chairperson Velma Gara, who was in attendance for the launch, said the signage and stickers are important because they provide protection for our mob, when they may have a hard time saying NO. "We sign on the dotted line, just to get them out the door and end up paying thousands over time for a product that is only worth a fraction," said Ms Gara. "This is the main reason why door-to-door traders prey on Indigenous communities." The Queensland Office of Fair Trading and the ACCC spearheaded campaign launches in the Hopevale and Woorabinda Aboriginal communities on September 21st and November 30th, respectively. A big shout out to: Brian Bauer, Executive Director and Len Curran, Regional Manager of the Queensland Office of Fair Trading, and Michael Dowers, Regional Director, ACCC for their continued commitment to increased consumer protection in remote communities!
Directly after the Do Not Knock-Informed launch in the Yarrabah community, ICAN took several complaints from residents about having been signed up to air conditioning installation contracts, prior to the launch. We brought the matter to the Office of Fair Trading, who issued a penalty of $10,800 to Oz Solar Needs Pty Ltd for failing to advise consumers of their cooling-off rights or provide the cancellation notice. Affected consumers were able to terminate the contracts if they chose to do so.
In May, the Good Money store opened its doors in Cairns. It's noteworthy that it's right across the street from the ICAN office! Since May, we have been providing financial counselling support to Good Money customers and have been promoting the service through our networks.
In June, we celebrated the launch of ICAN Learn, ICAN's Registered Training Organisation and social enterprise, dedicated to the professional development and advancement of the national financial counselling, capability and resilience sectors. ICAN Learn is a culmination of many partners working together with ICAN: our longstanding partner the Commonwealth Bank, Social Ventures Australia, Deloitte, the University of Queensland's MBA SEEP Program and Gilbert & Tobin Lawyers, who supported its development from the beginning!
In July, ICAN joined forces with the Tableland Community NILS program, under our Queensland Government Financial Inclusion Program funding. In this new partnership, we are building the organisational capacity for localised financial counselling service delivery in the Atherton Tablelands, an area historically serviced via outreach support from Cairns. We welcome Anne-Maree Molloy, longstanding NILS Provider in the Atherton region, to the ICAN team!
In September, Jon O'Mally, Operations Manager joined consumer groups Consumer Action Law Centre, Financial Counselling Australia, Choice and Good Shepherd Microfinance in Canberra, to discuss the Small Amount Consumer Credit (SACC) Review with Senators and Members of Parliament, and advocate for the proposed recommendations for increased consumer protections for payday loan and consumer lease borrowers.
In October, we to rolled out our fourth Mentorship Program for Indigenous students nationally, and our new Multicultural Scholarship Program, for culturally and linguistically diverse students located in Melbourne. We further welcomed two new staff to the ICAN Team: Conrad Dwyer and Carmen Hegarty!
2017 was a big year for the Yarnin' Money team! Over the year, the team delivered nine financial capability training sessions in: Cairns, the Atherton Tablelands, Mareeba (x 2), special tailored deliveries to Save the Children and ICAN's Mentorship Program (Cairns) and Townsville. The team finished off the year by heading to Sydney to deliver a tailored session to Commonwealth Bank staff.
******
Reflecting upon our past 10 years, our proudest achievement has been – and continues to be – our development of Aboriginal and Torres Strait Islander financial counsellors. In partnership with the Commonwealth Bank, our first Indigenous Financial Counselling Mentorship Program graduated a small group of ICAN staff from Cairns, Thursday Island (in the Torres Strait) and the Yarrabah and Palm Island Aboriginal communities (located in North Queensland). To date, we have graduated 34 Indigenous people through their Diploma of Financial Counselling and look forward to graduating our current 24 students from across the country!
Thank you for following us on our journey through 2017 and being a part of our community over the last ten years. See you in the New Year!
******
ICAN history
For our readers who may not be familiar with our history, ICAN has been in operation since 2000, originally named the Consumer Affairs Unit and housed within the Aboriginal Co-ordinating Council (ACC), the peak statutory body for the Deed of Grant in Trust (DOGIT) Aboriginal communities in Queensland. After closure of the ACC on September 30th, 2004, the ACC elected council wished for the consumer affairs unit to continue, and our work continued under the Kowanyama Aboriginal Shire Council. By 2007, our then Steering Committee, comprised of members from: the Australian Competition and Consumer Commission (ACCC), the Australian Securities and Investments Commission (ASIC), the Western Australia Department of Consumer Protection and the Queensland Office of Fair Trading) suggested it was time we become an independent organisation. On October 1st, 2007, ICAN became a not-for-profit company limited by guarantee.
We are proud to have had many insightful Board Members over the years who have been, and remain dedicated to ICAN's vision of Empowering Indigenous Consumers. We thank our many Directors who have served on the ICAN Board since our humble beginnings: Heron Loban, Robynne Quiggin, Vincent Mundraby, Graeme Hooper, Mick Gooda, Janine Gertz, Bob Frazer and Velma Gara, our present Chairperson and long-serving Director. We've come a long way in our continued service to the community over the past 10 years and look forward to the next ten!