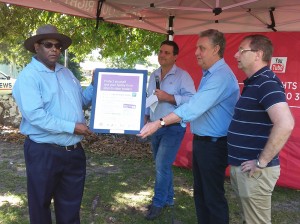 The Aboriginal community of Yarrabah in north Queensland today hosted the launch of the "Do Not Knock informed" communities program, with the unveiling of new roadside signage designed to warn door-to-door traders not to trade unlawfully.
The signage, located at the entrance of Yarrabah, reminds door-to-door traders about their legal obligations under the Australian Consumer Law (ACL) and that they must not approach houses displaying do-not-knock notices.
Speaking at the launch, Yarrabah Aboriginal Shire Council Mayor Ross Andrews welcomed the initiative and said local residents have been preyed upon by door-to-door traders by being signed up for overpriced goods or services they couldn't access, or simply didn't need or want.
"The signage sends a strong message from the Yarrabah community that we will not stand for unlawful conduct from door-to-door traders and we will stand together as a community to protect our friends and families," Mayor Andrews said.
The signage is a joint initiative between the Yarrabah Aboriginal Shire Council, the Australian Competition and Consumer Commission (ACCC), the Queensland Office of Fair Trading (QOFT) and the Indigenous Consumer Assistance Network (ICAN).
ACCC Acting Chair Delia Rickard said she was delighted to see the Yarrabah community institute the program, and reinforced the ACCC's commitment to prioritising Indigenous consumer protection.
"Far too often the ACCC has seen Indigenous consumers, particularly those in remote locations, targeted by unscrupulous door-to-door traders and we hope this program will help Yarrabah residents assert their consumer rights," Ms Rickard said.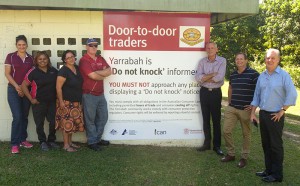 Fair Trading Executive Director Brian Bauer said OFT was honoured to be part of the program to help at-risk Indigenous communities combat dishonest traders.
"After receiving some disturbing reports regarding unlawful door-to-door trade across the far north, the program gives consumers the knowledge that they have the power to choose whether or not to allow door-to-door traders to visit them."
ICAN works closely with Indigenous consumers, providing free consumer advice and financial counselling services to communities across Far North Queensland.
ICAN CEO Aaron Davis stressed the importance of continued targeted consumer protection initiatives in Indigenous communities such as Yarrabah.
"It is critical to get the message to vulnerable communities that the law is there to protect them from shonky door-to-door traders and that help is available when needed," Mr Davis said.
The expansion of the Do Not Knock informed communities program into Yarrabah follows the successful pilot in Wujal Wujal, also in north Queensland, last year. In addition to unveiling the new community signage, a community information morning was also held to empower Yarrabah residents to enforce their consumer rights.
Free 'Do not Knock' stickers or signs are available locally from the Queensland Office of Fair Trading (Cairn Courthouse) and ICAN (209 Buchan St, Bungalow). More information on consumer rights is available from www.accc.gov.au or www.qld.gov.au/fairtrading. Indigenous consumers can also call the ACCC's dedicated Indigenous Infoline on 1300 303 143 or ICAN on 1300 369 878.