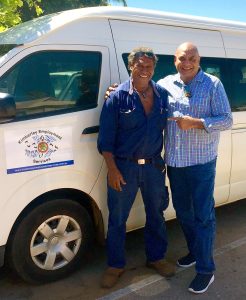 Eddie Buli and Carmen Hegarty from the Yarnin' Money team have been clocking up the miles again in April, crisscrossing the country from Cairns delivering training for "Yarnin' Money with the Mob", and "Yarnin' Money with Service Providers".
The team were excited to receive training invitations from the Local Aboriginal Council in La Perouse, Sydney, as well as the Nirrumbuk Aboriginal Corporation and Kimberley Employment Services in Broome.  These trips were especially meaningful for the team, as it was the first time these organisations would experience the unique Yarnin' Money training style that takes into account the participant's history, culture, personal situation, and community.
Whether the team are delivering to big business in the city, an industry group conference, or to a remote community like the visit to Thursday Island in March, the innovative Yarnin' Money method is transferable across different forums.  "From a small town to the big smoke, we're showing something different, doing something different, and this is acknowledged by the participants who share their own stories.  It's about asking them to trust us while we take them on an unknown journey starting as strangers, but where we finish up walking together at the end" said Eddie.
"One of the advantages of taking Yarnin' Money on the road around our vast country, is that we have an opportunity to produce a ripple effect, which is the essence of Yarnin' Money.  We're creating knowledge, not only among communities and service providers, but within the team itself.  We're passing on information, looking at budgeting in a different view, raising awareness of consumer issues, and hopefully creating yarns about financial literacy and consumer rights for generations to come" explained Eddie.
"Yarnin' Money travels nationally, training different organisations and communities for the first time, where we not only make new contacts, but as time goes by we make new friends and family as well" said Eddie.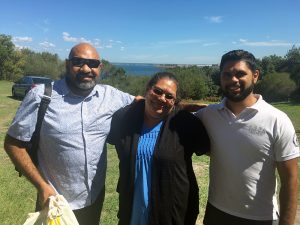 While in Sydney, the team were honoured to have Brad Cooke, Senior Manager, Indigenous Engagement & Innovation Enterprise Services at the Commonwealth Bank Australia, walk them on his country.  Brad not only provided an Indigenous history of his lands, but shared stories of his upbringing on the same lands where the training was conducted, providing the team with a privileged insight to the La Perouse community.
Broome also offered the chance for the team to make connections as Indigenous people, with both Eddie and Carmen running into family and friends from FNQ and Darwin during the training.  As Eddie explained "I met a cousin for the first time on my mother's side, where we descend from the Torres Strait Islands and Kingston, Jamaica.  I then soon realised I also had a mutual connection with another member of the group who's Aunty had lived in Ravenshoe, FNQ".
Carmen also realised one of the training participants in Broome was an old friend from Darwin.  "During our lunch break one of the participants who looked familiar approached me and said 'you're Carmen hey'.  I then realised who she was and she refreshed my memories from 14yrs ago!  I was so happy to see someone that I knew, and of course once someone in the community knows you really well, you're accepted as one of the mob, which is a great honour" explained Carmen.
With the experience of training different groups in so many diverse locations, the team have learnt to maximise the Yarnin' Money experience for organisations with limited training time. By conducting a community profile prior to training, the Yarnin' Money team can familiarise themselves with the local demographic to increase their own awareness of the community landscape, allowing them to target the geographic, social, and economic characteristics of a particular community.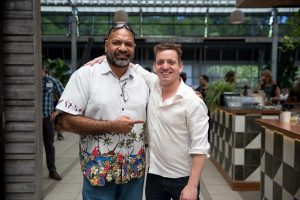 Being on the road presenting to different industries and communities also allows the team to collect feedback to ensure the training remains relevant.  "We always ask the participants to be completely honest in their feedback, as they are out best critics and their feedback will help shape future Yarnin' Money programs and make us better trainers.  We learn something new from every training session we conduct" said Eddie.
Looking ahead, the team are excited to have booked additional Yarnin' Money training for La Perouse in July, with other requests for Cairns, Mareeba, Townsville and the Gulf of Carpentaria also scheduled.
But wait, there's more!
The Yarnin' Money program is going international in May, when Eddie joins ICAN's Research and Communications Manager, Carmen Daniels, for the ABLE Financial Empowerment Conference in Canada.  "I'm privileged to have the chance to present the Yarnin' Money Program at this conference in Vancouver" said Eddie.  "For a small team, we're making big tracks."
Yarnin' Money is an Indigenous financial capability supported by the Commonwealth Bank, Financial Literacy Australia, the Department of Social Services and the Queensland Department of Communities, Disability Services and Seniors.
* Queensland Government. (2018). 'Labour force – small area: unemployment rate (smoothed) (per cent), qtr ended 31 Dec 2017.' https://statistics.qgso.qld.gov.au/qld-thematic-maps. **Australian Bureau of Statistics. (2018). '2016 Census Quickstats: Thursday Island.' http://www.censusdata.abs.gov.au/census_services/getproduct/census/2016/quickstat/SSC32851 .