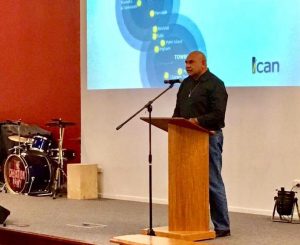 ICAN's Eddie Buli, Martina Kingi, and Carlie Kirk were excited to attend the Townsville Community Organisation Networking Forum on Friday, 8th September 2017, held at the Salvation Army Riverway Corps in Condon. The Australian Government funded 'Communities for Children Facilitating Partner Initiative Townsville West', facilitated by The Smith Family, is about providing an opportunity for a cross section of over 100 different organisations to promote their services, programs, and to be included into the Forum Service Information and Contact List Booklet.
Being involved in the Forum provided an opportunity for ICAN staff to network with organisations and learn about possible support and facilities available for each other's clients.
"What an awesome way to establish connections, break down the silos and maintain a strong network", said Eddie Buli, ICAN's Business and Education Development Officer. "Being accepted to present Yarnin' Money at the Forum in 3 minutes, 3 slides, with 30 plus presenters was a new experience for me, but this speed dating style of information encouraged further conversations and interest afterwards in ICAN's Yarnin' Money training and other services."
ICAN Financial Counsellor Martina Kingi explained, "I've been attending these forums for 2 years and I always appreciate every organisation that goes out of their way to promote their service and to network with each other. It's a great opportunity to catch up with old contacts as well as build new relationships with organisations and speakers present on the day. This is also a chance for me to set up informal meetings at their offices to discuss how we can further empower their clients, and sometimes themselves."
Carlie Kirk, Receptionist for ICAN's Townsville office, remarked "living in Townsville my whole life I never knew half of these organisations existed and can now understand what roles they each play in helping my community. This experience gave me the confidence to inform and refer clients if I need to as I am the first point of contact for our office".
The whole team were extremely impressed with the way the Townsville Community Organisation Networking Forum was organized to maximise the sharing of information. "It was a very worthwhile day and something that I would highly recommend occurring in Cairns," Mr Buli said.