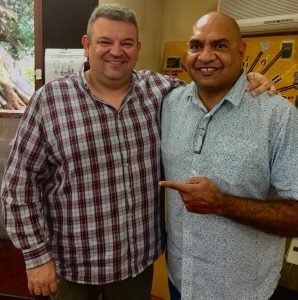 By Carmen Hegarty & Eddie Buli
Last month, Yarnin' Money was invited to promote the program to Commonweath Bank staff and its community partners. Yarnin' Money staff Carmen Hegarty and Eddie Buli delivered training to Commonwealth Bank staff and interns, and community partner organisations including Kari and the Darkinjung Local Aboriginal Land Council. The two-day training was held at the Tranby National Indigenous Adult Education and Training facility, an awesome place situated in the suburb of Glebe.
We were very eager to meet the participants and to showcase the Yarnin' Money Training in the big smoke. The training itself takes participants on a journey to look and see money – and money issues – from a historical, cultural, personal, family and community view. It's about our mob, our communities, our style, our yarn and the way we yarn. Through the training, we hopefully shared some awareness via the yarn through Indigenous eyes – not only of the barriers – but aspirations faced by Indigenous people in remote, rural, and urban areas, with regards to financial literacy and consumer issues.
"What stood out for me was that the Yarnin' Money training is done at a pace which can be unfamiliar to corporates", said Brad Cooke, Manager – Emerging Technology at the Commonwealth Bank. "The training style properly reflects the needs of the community. It gave time for people in the room to reflect upon their own stories, which reflects the way in which community talk with each other."
The training also focused on how we can have that understanding when assisting our people towards a healthier financial well-being. Participants were inspired by the concept of the Yarnin' Money Wheel and how user-friendly it was. It's a tool that creates a visual picture that allows a person to look at their life from the outside in, and within historical, cultural, personal and community contexts.
"The Yarnin' Money training occurred at a really good time in my life," said Megan Wilkin, Finance Officer with Darkinjung Aboriginal Land Council. "The Yarnin' Money Wheel activity really stood out for me and I actually went home that night and did up a nice, colourful personal Yarnin' Money Wheel, reflecting my financial journey. I really appreciated the time taken with the training."
For us, the training was a great way to find a common ground with the bankers, through storytelling or yarnin'. The process of yarnin' as a form of our knowledge exchange and teaching is the component we want to emphasise. In the right environment, learning can occur when one person can pass on that yarn, through telling stories and sharing information, which has always been part of our traditions. During the training, we were able to make that connection through the yarn, our way of doing things.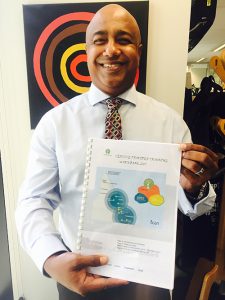 "The workshop delivered by Eddie and Carmen was full of great insights and practical 'handy hints'", said Noel Prakash, Commonwealth Bank's Head of Indigenous Banking. "Eddie's depth of experience and his expertise was reflective of his humorous delivery style, allowing the participants to understand and connect with the complex financial challenges of various communities. His warmest gift was his ability to 'simplify' complex financial challenges by community and bring along a diverse group of attendees on a common journey. I was honoured to have my bankers and clients spend the day with Eddie and Carmen."
Happy New Year everybody and we look forward to where Yarnin' Money will take us in 2018! Yarn more soon!!!
*****
Yarnin' Money is an Indigenous financial capability program under ICAN Learn and is supported by the Commonwealth Bank, Financial Literacy Australia, the Department of Social Services and the Queensland Department of Communities, Disability Services and Seniors.