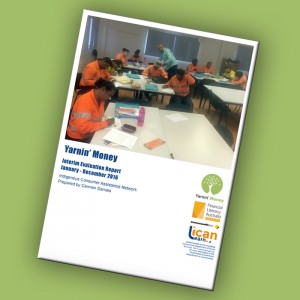 ICAN has just released its interim evaluation report on our Yarnin' Money financial capability training program. The report discusses the evaluation progress to date on the Yarnin' Money training program, delivered to twelve remote Aboriginal and Torres Strait Islander communities over a three-year period (2015-2017), with a focus on the development, delivery and evaluation activities of the Yarnin' Money program from January to December 2016.
Yarnin' Money, funded by Financial Literacy Australia, the Commonwealth Bank and the Department of Social Services, is a three-year outreach program aimed at providing financial literacy tools and skills for local service providers and community residents in remote Aboriginal and Torres Strait Islander communities across Far North Queensland. Yarnin' Money is developed and delivered through a culture-centred training approach, which recognises existing Indigenous cultural worldviews and knowledge as the foundation to build new financial capability skills. The program aims to overcome geographical barriers by providing local financial literacy training coupled with ongoing support, by connecting ICAN's financial counselling and capability services to remote communities across Australia.
ICAN's ongoing evaluation seeks to examine how the program increases knowledge, confidence and skills towards financial capability by specifically embedding Indigenous worldviews and cultural components which are delivered through storytelling, to create a 'yarn' about money. "If we start Yarnin' about this thing Budget/Money and we understand this component in our lives, we can try and be boss of it as best we can. Yarnin' about Money is the start of where we are today, to where our young people and generations to come, going to be in relation to how we perceive Money," said Eddie Buli, Yarnin' Money developer and trainer. It also seeks to discuss the context in which financial capability learning occurs for Indigenous peoples and how context affects learning.
Key findings from the report include a discussion on how the training delivery and activities promote cultural safety, which has been the necessary foundation for opening participants up to be able to discuss money within a safe environment, how the training creates opportunities for 'teachable moments' and also discusses challenges met.
You can download the Yarnin' Money interim evaluation report at: http://ican.org.au/wp-content/uploads/2017/04/ICAN-Interim-Eval-Report.pdf or from the Financial Literacy Australia website at: http://finlit.org.au/funded-projects/funded-projects2014/indigenous-consumer-assistance-network-ican/.
Financial Literacy Australia (FLA) is a not for profit organisation committed to advancing financial literacy in Australia. See http://finlit.org.au/ for more information.