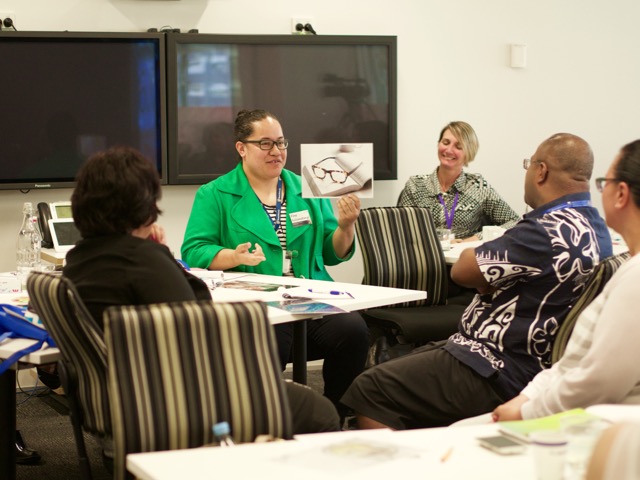 Earlier this month, the Yarnin' Money team was invited to Auckland, New Zealand, to participate in the conference "Exploring cultural perceptions of money and wealth", hosted by the Financial Education Centre at Massey University. The conference, held at the Westpac Bank on October 11th & 12th, brought together practitioners, academics and government agencies with an interest in financial literacy, financial counselling and budget advice, investing, lending and working in diverse communities.  As it was ICAN's first international conference, the team was very excited to present on the Yarnin' Money program and to share best practice in financial capability with practitioners from New Zealand, India and the UK.
The conference theme: "Exploring cultural perceptions of money and wealth" allowed us to discuss the cultural influences that affect how people and institutions save, spend and approach money.  For our team, it was our intent to share our experiences of our learnings, outcomes and challenges thus far in delivering Yarnin' Money – ICAN's financial literacy outreach program – to remote Aboriginal and Torres Strait Islander communities.
The conference opened with a Welcome ceremony by Te Aroha Morehu, of Ngāti Whātua Ōrākei.  After the welcome, Dr Pushpa Wood, head of conference and the Financial Education Centre at Massey University, presented findings from their international survey conducted prior to the conference, on understanding the role of culture in people's lives when it comes to making money related decisions.  ICAN's Yarnin' Money team was first cab off the rank to present on our narrative approach framework for delivering financial literacy training to remote communities in Far North Queensland and the Torres Strait.  We discussed how the program was purpose-built upon a strengths-based approach, recognising existing Aboriginal and Torres Strait Islander cultural worldviews and knowledge as the foundation to build new financial capability skills.  You can listen to our presentation here:
You can also watch a video of the presentation by following this link: http://webcast.massey.ac.nz/
Highlights from the conference included presentations by:
Dr Jason Mika from Massey University, spoke about "The Indigenous entrepreneurs' dilemma: balancing commercial and cultural imperatives in business using Indigenous values." Dr Mika took us on a journey to 'explore the role of Maori values in communal Maori enterprises', exploring 'the extent to which Indigenous values and reciprocity, can and does alleviate the Indigenous entrepreneurs' dilemma'…
Alexander Stevens from the NZ Commission for Financial Capability, wowed us with his presentation on the "Making Sense of Cents" a campaign created for the Commissions' '$orted' website, as part of NZ's 'Money Week 2016'.  Our favorite was "Kōrerō (Talk) Money Week Videos", a unique series of financial capability campaign clips which utilizes the NZ shilling coin as well as other past and present NZ currency. The videos aim to pay respect to NZ indigenous history and also connect people to messages regarding money.
Nick Watkins, Head of Insight and Evaluation at the Money Advice Service in the UK, presented on "Identifying the key enablers and Inhibitors of financially capable behaviour by consumer type" – a fascinating insight into consumer & financial behaviour in the UK!
Teresa Tepania-Ashton, Chief Executive of the Māori Women's Development Inc, who presented on "Indigenous approaches to strengthening wahine [women] and whanau [family] financial capability." Teresa discussed MWDI's 'Hinepreneur' program, which builds the 'capability of wāhine Māori to be trained as certified Hinepreneur Capability Coaches, who in turn, support their clients to reflect on their financial position and find ways to build their personal/Whanau and business wealth potential.'*
The Yarnin' Money team delivered two Workshops on how to use narrative approaches in delivering financial literacy education to Indigenous peoples.  Eddie Buli and Jon O'Mally, Developers and Trainers of the Yarnin' Money program, took participants on the Yarnin' Money journey, through the Photo Narrative and Timeline activities, in order to understand how life events and one's environment impacts upon our views, values and use of money.
Many participants reflected on the personal connections made during the Photo Narrative activity. "In one hour of sitting with people you had never met before we all gained a tiny glimpse of something special from each and every soul in the room", said Michelle Wikita, Finance Manager at Orakei Marae, and Workshop participant.
Participants also gained insight into how the team has built its Yarnin' Money Wheel as a method to capture issues at individual, family and community levels and how the wheel reflects ourselves and our money. "The Yarnin' wheel presented to each individual what was real and important to them when it comes to life and the money we utilise to live it", Michelle reflected.
For Alexander Stevens from the NZ Commission for Financial Capability, the Workshop provided a platform for the exchange of ideas and Indigenous worldviews."I was invited into a sacred space of learning. I was humbled by the team at ICAN who openly shared indigenous worldviews with our Australian counterparts which was a beautiful spiritual experience.
"To see the framework being used to enable and empower Aboriginal people to create a space where financial literacy and capability can occur is truly amazing," he said.
"It was a great pleasure have the ICAN's / Yarnin' team at our conference", said Dr Wood, Head of Conference. "The team was really generous with their time and I wanted to make sure that all conference participants had an opportunity to share the indigenous culture centred approach that the team has developed. For our indigenous people in New Zealand, it was great to see how the Yarnin' model is operating on the ground and the difference it is making to people's lives. It was great to hear this first hand!"
"I could see a lot of similarities between the Centre's philosophy and approach with the Yarnin' model," said Dr. Wood. "It is my hope that we will be able to collaborate in future with the ICAN/Yarnin' team especially in the area of research and evaluation related to improving financial capability of indigenous people in our two countries."
For the Yarnin' Money team, we felt humbled and privileged to present at the conference, and to make new connections with many wonderful people who share the same mindset and values as we do, when it comes to delivering financial capability education for Indigenous peoples. For Eddie, there were many personal and professional discoveries in being able to hear from other Indigenous financial education programs. "From the first day with the welcome, the various presentations, discussions, programs and experiences made that camp fire atmosphere amongst us", he said.
"Hearing about how financial literacy education is being delivered in other places, highlighted the similarities and challenges we share as Indigenous in this financial and consumer space", said Eddie.
*******
Yarnin' Money is a three-year outreach program aimed at providing financial literacy tools and skills for local service providers and community residents in remote Aboriginal and Torres Strait Islander communities across Far North Queensland, funded by Financial Literacy Australia, the Commonwealth Bank of Australia and the Department of Social Services.