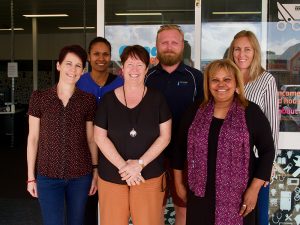 In November 2016, Good Shepherd Microfinance, on behalf of the Australian Government and in partnership with the Centre for Social Impact (UNSW) and EY, launched the Financial Inclusion Action Plan (FIAP) Program, along with the FIAPs of 12 trailblazer organisations. Since then, the number of trailblazer organisations committed to improving the financial inclusion and resilience of over three million adults has risen to 30+, and includes essential services providers, professional services firms, banks, universities and government agencies.
As a FIAP partner and the driver of Indigenous financial inclusion, ICAN have worked to increase Indigenous consumer protection and build the financial capabilities of Indigenous communities for over 10 years. "We know from experience that when government, industry and community sectors work together, financially excluded Aboriginal and Torres Strait Islander peoples can benefit from the collective impact" said ICAN CEO, AaronDavis.
To show its commitment to a fair and prosperous Queensland, the State Government committed $25 million over four years from 2016–17 for the Financial Resilience Program, including the establishment of two Good Money stores in Cairns and on the Gold Coast.
As an innovative partnership between the Queensland Government, Good Shepherd Microfinance, and National Australia Bank (NAB), The Good Money Store demonstrates how FIAP partners can work together to improve financial inclusion for Indigenous people.
Simone O'Mally, Store Manager of Good Money Cairns explained "Working with ICAN is a great example of FIAP partners providing a wraparound service for clients, where we refer clients to ICAN for financial counselling assistance, and ICAN refers the same client back to the Good Money Store and the No Interest Loan Scheme (NILS) once the client is back on their financial feet. It's a win/ win for everyone."
And as providers of outreach services to Yarrabah, Palm Island and the Atherton Tablelands communities, ICAN financial counsellors couldn't agree more.
"Many of our clients face financial exclusion when trying to purchase essential household items such as furniture or whitegoods, making them vulnerable to illegal door to door traders, and ending with our clients trapped in a cycle of debt." said ICAN Financial Counsellor, Sandra Rosas, of her weekly visits to Yarrabah. "We also have clients that have already signed an unfair consumer lease and want our help to get out of the contract, especially when they realise how much they're actually paying for a new fridge or a washing machine. By referring our clients to The Good Money Store, people on low incomes can access fair finance and only borrow what they need, thereby stopping the debt cycle."
ICAN Financial Counsellor Conrad Dwyer travels to Palm Island weekly and explains "The best advertising for The Good Money Store and NILS on Palm is by word of mouth. By ICAN assisting one family member and having a positive impact, it's more likely that client will encourage others to come and see us too. Prior to ICAN working with NILS, the community had no choice but to be ripped off thousands of dollars with a consumer lease if it meant they had a fridge for food and a washing machine for school clothes."
ICAN's Financial Counsellor on the Atherton Tablelands, Anne Maree Molloy, knows the importance of being located in the local community. "It's very important for people on the Tablelands, especially Atherton, Malanda and surrounding towns, to be able access to the Good Money Store's NILS loan with local assistance" said Anne Maree. "On average, I refer anywhere from 5 to 10 NILS clients to Good Money per week. The benefit of ICAN providing outreach services is that we can assist clients with their NILS loan application and provide the documentation directly to our FIAP partner, the Good Money Store, on the client's behalf. This kind of working relationship also helps build rapport with clients and usually opens up discussions about other financial concerns that we can then resolve to get the client back on track."
Mr Davis explained "we are proud to work with the FIAP Partnership Group through the development, implementation and support of our Financial Inclusion Action Plan and would like to acknowledge its leadership in advancing financial inclusion in Australia."