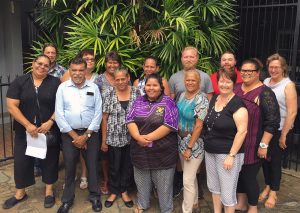 The third national Indigenous Financial Counselling Mentorship Program sponsored by the Commonwealth Bank commenced in Cairns on October the 16th, 2017. ICAN Learn Program Coordinator, Majella Anderson highlighted that the fifteen scholarship winners were from Victoria, New South Wales, Western Australia, South Australia and Queensland. "It was great to see representatives from the Aboriginal Legal Rights Movement (ALRM) participating in the program again, showing their ongoing commitment to developing Indigenous financial counsellors in South Australia's Port Augusta and Ceduna regions," said Ms. Anderson.
Explaining what makes the third national mentorship program different, ICAN Learn Executive Officer, Bernadette Pasco said, "for one it's being delivered by our own Registered Training Organisation, ICAN Learn, and two, we've now included the financial literacy skill set, which is a great Segway into linking the roles of financial counselling and capability."
This sentiment was backed by ICAN's new financial counsellor (associate) and mentorship program participant, Conrad Dwyer; "With my experience in the industry, I felt I was able to assist some of my colleagues in the course to gain a better understanding of what financial capability work involves, while also learning more myself around some of the cultural protocols and specific remote issues that I will need to be aware of when working in communities."
The course delivery is modelled on a block training approach of five to six, one week blocks over an eighteen-month period, that are supported by weekly online sessions. "We are using the Electa live web based platform between visits. This has resulted in a few technological challenges, but overall enabled contact between group members and assisted people get ready for the Diploma part of the program and next block visit on November 27th," said Ms. Pasco.
"Students are also engaging in submission of work via our e-learning platform, reducing the need for paper based documents and providing a platform to learn self-directed aspects of written tasks, effectively reducing our carbon footprint," said Ms. Pasco.
ICAN's new Financial Counselling Support Officer and program participant, Carmen Hegarty said, "I found it very enjoyable to meet others from different parts of Australia and more importantly discuss how they service their communities, and the experience they have in handling financial cases. It is comforting to know that we are all working to address similar issues together and we can pool our knowledge and resources for improved client and service outcomes."
ICAN Learn enhances the delivery of the qualification through real education and industry connections. "We will be utilising ICAN's extensive consumer regulatory, ombudsman and community service networks to present and discuss cases that make the education experience real. At the last block, past graduate and Yarnin' Money Co-ordinator, Eddie Buli took participants through the concept of the ground breaking financial capability program and its value in working with Indigenous groups," said Ms. Pasco. "Yarnin' Money is developing a momentum of its own, with interest from diverse stakeholders in other States/ Territories, a promising way to develop different ways to have money conversations and empower service providers."