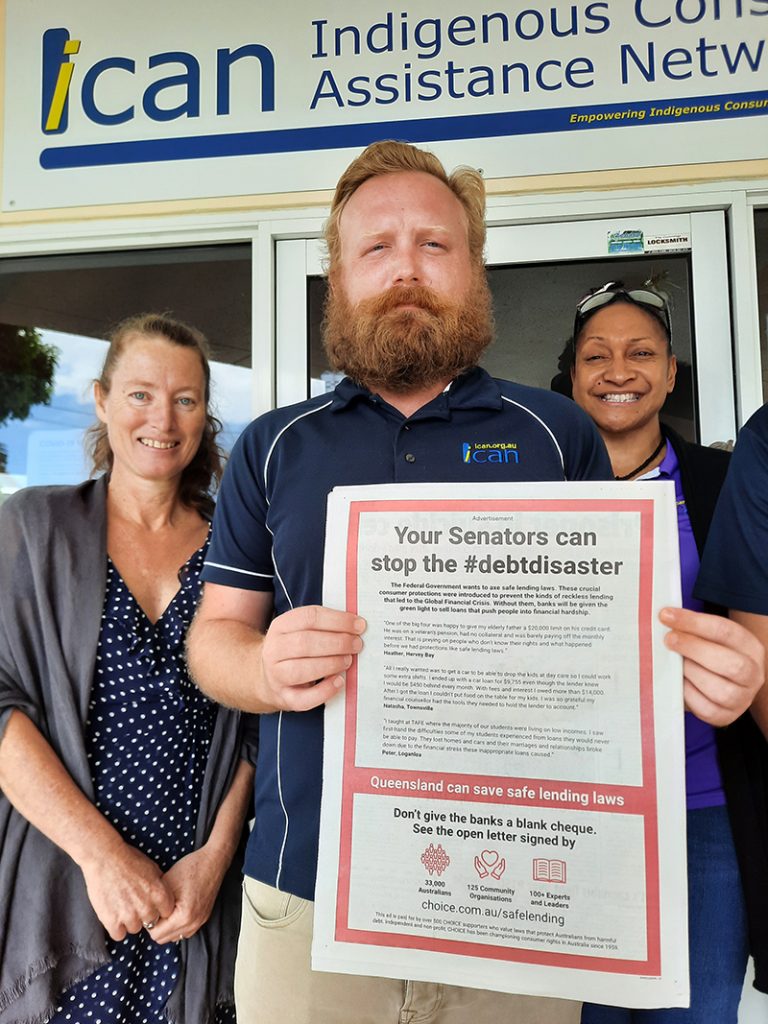 ICAN is a proud member of a coalition of organisations opposing the Government plans to axe Australia's safe lending laws through the Save Safe Lending campaign. The National Consumer Credit Protection Amendment Bill will remove fundamental protections that Australian families cannot afford to lose.
On 15 March 2021, the Bill to axe responsible lending laws passed through the House of Representatives but was unexpectedly deferred for Senate debate until at least May 2021. This decision followed the delivery of an open letter against the changes signed by over 33,000 people,125 organisations and 100 experts.
While this is a win for the campaign, the fight is far from over, and a lot of work still needs to be done to stop the Senate from passing the Bill.
An analysis by consumer group CHOICE has revealed over 31,000 complaints have been made about credit products since the end of the Banking Royal Commission's hearings.
Changes to safe lending laws would contradict the very first recommendation of the Banking Royal Commission. Commissioner Kenneth Hayne called for safe lending laws to be enforced, not dismantled.
Jillian Williams, ICAN Operations Manager, said, 'North Queensland communities are some of the most economically disadvantaged communities in the country. They now face the financial impacts of COVID-19, which has hit our tourism industry, amongst others, hard. As a result, the people we help are really struggling to regain lost employment or find new employment. They are facing extreme financial stress and the resulting emotional trauma that has been wrought by COVID-19. Further debt, which is what the removal of these laws will result in, is not going to assist people. It will simply create a debt disaster.'
ICAN provides financial counselling services across Cairns, Townsville, the Tablelands, the Cape and Torres Strait Islands, and see firsthand the harmful impacts of unsafe lending practices and have grave concerns about the axing of responsible lending laws.
'The power imbalance that already exists between banks and individuals, highlighted throughout the Royal Commission into Financial Services, will considerably worsen if these laws are axed. It is laws, not standards that we need to ensure banks and other lenders engage in safe lending', said Jillian.
Alan Kirkland, CEO of CHOICE, said, 'The banks promised they'd clean up their act after the shame of the Royal Commission hearings but over 31,000 credit complaints show there are still huge problems in the system'.
"Repealing safe lending laws is an extraordinary thing to do when many Australians are struggling in the wake of COVID-19. If passed, this will be the biggest handout to the banks we've seen in decades. This is a time for the Senate to do what it was created to do – temper the influence of lobbyists and make sure Australians are put first," says Mr Kirkland.
CHOICE analysed Australian Financial Complaints Authority (AFCA) complaints data across consumer loans, credit cards and housing finance from November 2018 to December 2020. Complaints on credit products can range from irresponsible lending and charging of incorrect fees to poor customer service, fraud, and unfair terms and conditions.
"Right now, ABS data shows that mortgage lending is at record highs. This is fuelling a housing boom that is pushing home ownership out of reach of many more Australians. Scrapping safe lending will land many people with large debts they can't afford and take away their ability to receive justice," says Mr Kirkland.
"This contradicts the very first recommendation of the Banking Royal Commission – to leave safe lending laws intact."
The repeal of safe lending laws rests in the hands of the Senate crossbench.
You can sign the open letter to save safe lending here: https://debtdisaster.consumeraction.org.au/open-letter-to-save-save-lending/