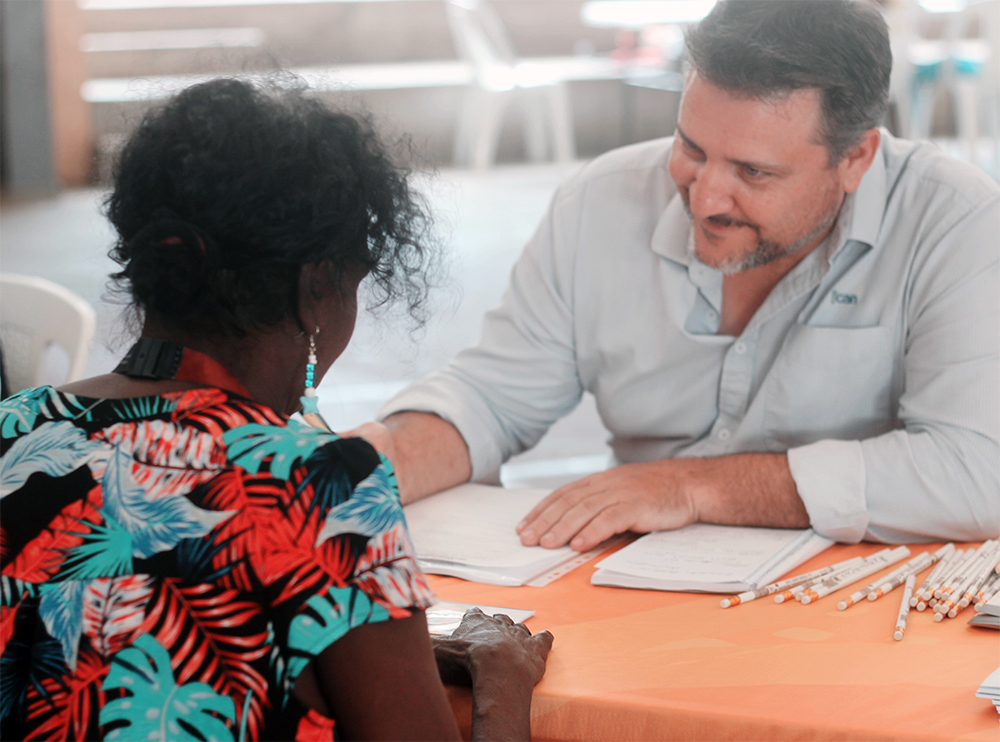 How federal funding is empowering Palm Island residents
Thanks to the support of ongoing federal funding, ICAN maintains its weekly visits to the community of Palm Island, where we continue to build and strengthen relationships with community members, and local and visiting service providers. This support has resulted in a strong uptake of support, advocacy and empowerment in financial issues affecting the community.
Thanks to the efforts of ICAN Financial Counsellor Conrad Dwyer, word-of-mouth referrals have been an increasing source of new clients accessing the ICAN support network and is reflective of the positive outcomes and trusting relationships built over the last year and a half on the island.
ICAN provides support to a variety of financial issues on Palm, including debt advocacy, early release of super, Youpla funeral plans (previously ACBF, named in the Royal Commission), to name a few.
Often someone presents to ICAN with a single financial issue, which can turn into a more significant win for not only the client but also the entire community.
$8,000 Tax Debt Waived
Take 'Client X', who came into ICAN's Palm Island office recently to find out why she had not received a tax return for the 2017-18 financial year. After a bit of investigation, Conrad discovered that the client had an outstanding HELP debt that was causing her to have tax debts each year.
It turned out the client had been signed up to a course, using the VET-FEE HELP scheme, by a dodgy private training organisation who visited Palm Island in 2015-16. The trainer delivered one day of training, before disappearing, never to be seen again. Even though the course was not provided, the client was still lumped with an $8000 debt.
ICAN helped the client to report the issue to the Australian Council for Private Education and Training (ACPET) and provided advocacy follow-up to get her case before the VET Student Loans Ombudsman. After six months of work and advocacy by ICAN, the client received notice this month that the entire $8,000 HELP debt had been waived from her tax debt. What's more, the client was able to tell other community members that had been a part of the training scam to visit ICAN for help. As a result, ICAN currently has several other cases relating to this – and potentially other – scam training providers, presently before the ombudsmen.
The outcome is a massive relief for the client. "I can't believe it! I thought it wasn't right that I had to pay it all, but I didn't know who could help me. Thank you ICAN!" she said.
Outcomes like this are a huge reward for both the client and the financial counsellor. "As a financial counsellor, it's great to know that referrals to the ombudsmen service are being followed up with waiver of these debts from the dodgy practices that went on during the VET provider funding," said Conrad. "There is also personal satisfaction in achieving a positive result for the client, particularly those at remote communities, who are the people that are usually forgotten. There are still so many more people with these debts that probably don't realise they are sitting on their account that could be waived."
"We visit Palm Island to provide information and options to people that could prevent a financial crisis, or to help someone that is currently in crisis," said Conrad. "It might be providing information about how to access a NILS loan instead of going to a payday lender, or we may act on someone's behalf by providing debt advocacy, as we did in this case. Whatever it is, we're there to provide free financial support without judgement."