As the 60th anniversary of the NAIDOC week celebrations rolls in, it is timely to reflect that despite isolated pockets of success, much remains to be done to realise Indigenous inclusion in Australia. Amongst the many ongoing challenges is one that policymakers focused on financial services provision have been grappling with for the last few decades – Indigenous people are over-represented amongst the most financially excluded groups in Australia, lacking access to safe, affordable and appropriate financial products and services from mainstream providers[1].
Financial exclusion is associated with low income, and exacerbates other forms of disadvantage including socio-economic marginalisation, poorer health, education and employment outcomes, and lower financial resilience i.e. the ability to recover from financial shocks[2]. Although many Australians experience such disadvantage, Indigenous people are almost two and a half times more likely than others to be financially excluded1, irrespective of whether they live in urban, regional or remote areas[3].
Indigenous exclusion has persisted in Australia and overseas, presenting a 'wicked' problem which begs a holistic, 'joined-up' response across the multiple sectors which intersect with their daily lives, straddling government, businesses and the wider community. Yet such solutions can only succeed if they are community-led, with Indigenous priorities placed at the heart of user-centred design[4].
From Rhetoric to Reality?
One example of such an Indigenous-centred approach is an established partnership between the Indigenous Consumer Assistance Network Ltd (ICAN) and the Commonwealth Bank to improve the financial wellbeing of Indigenous Australians. Both organisations are amongst a pioneering group of 30 'Trailblazer' organisations, who have joined forces to realise financial inclusion and resilience for the more than 3 million Australians who are fully or severely financially excluded, via the innovative national cross-sectoral collaboration, the Financial Inclusion Action Plan (FIAP) program.
ICAN, with over ten years of dedicated service and commitment to empowering Indigenous communities through consumer education, financial counselling and advocacy under their belt, is one of the newest members to join the fast growing FIAP community, whilst the Commonwealth Bank was amongst the first 12 organisations to launch Foundation FIAPs in November 2016. Together, these organisations committed to take more than 240 specific actions, designed to realise financial inclusion and resilience for their clients, staff, suppliers and community partners[5].
Commonwealth Bank's Foundation FIAP actions included providing fee-free accounts, accessible branches, cultural awareness training for staff, as well as specialised assistance for people in financial hardship, particularly the complex consumer issues affecting Aboriginal and Torres Strait islander people living in regional and remote Australia, through an ongoing partnership with ICAN. This is in addition to the tailored support Commonwealth Bank provides to remote Indigenous communities through its Indigenous Customer Assistance Line.
ICAN CEO Aaron Davis, describing his vision for a FIAP, says "We want to work with government and industry to develop ethical solutions to current products and services that we see contributing to Indigenous financial detriment. If we nominated our 'top 5' today, these would include: payday lending, consumer leases, funeral insurance, superannuation and high-energy costs.
"Matters such as payday lending, consumer leases and funeral insurances require the development and promotion of ethical alternatives that meet the needs of Indigenous peoples and address market failures. In some cases like superannuation and energy costs, we also need an education and advocacy response to community issues."
Joining Forces to address Indigenous Disadvantage
"To create positive change, financial and consumer capability needs to be built with the Indigenous community, respecting existing knowledge and Indigenous cultures in delivery" says Mr. Davis. "We know that the best outcomes in Aboriginal and Torres Straits Islander communities are achieved when people are empowered to take control of their own issues. Indigenous financial counsellors have a greater understanding of language and context making it easier for them to identify the underlying issues of a client's financial position. When you build the skills of an Indigenous community member to become a financial counsellor, the knowledge remains in the community."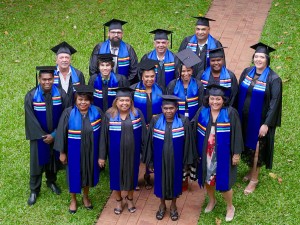 Over the next three months, ICAN in ongoing partnership with fellow FIAP trailblazer Commonwealth Bank will be rolling out concurrent scholarship programmes for Indigenous and culturally and linguistically diverse recipients to gain a Diploma of Financial Counselling along with mentoring from senior financial councillors. Both the scholarships and mentorships will be delivered in Cairns and Melbourne by ICAN's new subsidiary social enterprise registered training organisation (RTO), ICAN Learn.
"The goal is to ensure that all Australians can receive both culturally competent and high quality financial counselling services," says Mr Davis.
ICAN's "Indigenous Financial Counselling Mentorship Program" is a training program for Indigenous peoples seeking to become qualified and accredited financial counsellors. It brings together partnerships across community, industry and government to achieve greater outcomes in the financial counselling and capability sector. The program supports and adds value to government-funded financial counselling and capability positions across Australia, by professionalising a culturally competent workforce. With CBA's continued investment, ICAN Learn will provide scholarships for up to 30 new student placements in 2017-18.
CBA and ICAN are also looking at further expanding the scope of the financial literacy program, Yarnin' Money, a financial capability training and outreach programme aimed at providing financial literacy tools and skills for local service providers and community residents in regional and remote Aboriginal and Torres Strait Islander communities across Australia.
Cross-sectoral partnerships such as these leverage the strength of both organisations, allowing them to co-design solutions that work for both Indigenous consumers and their service providers.
For its part, the partnership with ICAN continues to yield benefits not only for the Indigenous Australians it is seeking to support, but also for the Bank itself.
"This is a wonderful opportunity for us to make a real difference to the financial wellbeing of Indigenous Australians. Over the years we have gained a lot from the experience of working with ICAN, who consistently deliver important financial counselling services to Indigenous communities right across the country," said Sharona Torrens, CBA's Executive Manager of Indigenous Affairs.
[1] 'Collective Actions Leading Change' Good Shepherd Microfinance 2016 http://goodshepherdmicrofinance.org.au/assets/files/2016/11/FIAP-Launch-Report-v5-Online-161117.pdf
[1] 'Measuring Financial Exclusion In Australia' 2012, Centre for Social Impact for NAB https://www.nab.com.au/content/dam/nabrwd/About-Us/corporate-responsibilty/docs/nab_fin_exclusion_report_final_2012_web-2_1.pdf
[2] 'Financial Resilience in Australia 2015' Centre for Social Impact for NAB http://www.csi.edu.au/media/uploads/Financial_Resilience_in_Australia_-_Full_Report.pdf
[3] 'A Report on Financial Exclusion in Australia' ANZ-Chant Link 2004 http://www.ncrc.org/global/australAsia/Australia/AustraliaArticle4.pdf
[4] 'Explaining Social exclusion: Towards Social Inclusion for Indigenous Australians', 2010 Hunter, B. & Jordan, K. in Australian Journal of Social Issues, 45(2): 243–65
[5] 'Collective Actions Leading Change' Good Shepherd Microfinance 2016 http://goodshepherdmicrofinance.org.au/assets/files/2016/11/FIAP-Launch-Report-v5-Online-161117.pdf