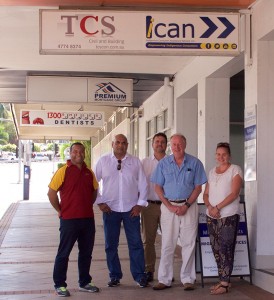 The ICAN Townsville office opened on 1 July just as Townsville was being announced as the insolvency capital of Australia, recording an 11.5 per cent increase in personal insolvencies in the June quarter.
The Townsville staff have been active promoting the service, compiling a distribution list of 130 organisations and delivering and offering presentations to a range of community and business groups. ICAN has also joined the Townsville Community Network and will attend the Network's major forum to be held on August 28th, where we will have information packs for services and their clients as well as offering our services to speak to any group that wants to know about us. We already established referrals with the Rentconnect scheme in the Department of Housing and with the Aboriginal and Torres Strait Islander Legal Service (ATSILS). A number of private rental agencies have also approached us to determine if they may encourage clients in rent arrears to come to ICAN for financial counselling.
ICAN also provides weekly outreach support to Palm Island, via the PCYC office. Appointments are available each Tuesday from 9:00 a.m. – 2:00 p.m. ICAN's outreach service to Palm Island includes providing: financial counselling support for people facing financial hardship, offering financial literacy workshops and further financial capability services.
ICAN's new office is located at Unit 2, 95 Denham St in the Townsville CBD. From September 1st onwards, appointments can be booked by calling the office at: (07) 4417 1900 and fax: (07) 4417 1999. Appointments may currently be booked by ringing 0427 706 344.
Meet the Team
Martina Kingi
Hi all, my name is Martina Boubaris-Kingi. I am an Indigenous woman from the Fitzroy river in the Kimberleys. I grew up in a small predominantly Indigenous town in the Kimberley's called Derby in Western Australia but have lived here in Townsville when I was younger and attended a school here so know the area pretty well.
Nearly all of my employment has been in the community service field. My main motivator is my mother who has always been a great advocate for indigenous and lower economic families and of course my daughter. I can pretty much say that financial counselling picked me rather than the other way around as I walked into the office in Derby to get financial counselling for my own finances. Then I discovered that there wasn't any in Derby so applied for the job and here I am. Not only did I sort out my own finances but have enjoyed helping the community to do the same and am very passionate about it.
I completed my Diploma with ICAN while I was still working in Derby in June 2014 and knew instantly I wanted to work with the ICAN team if I ever left Derby. I was offered a job in Darwin with another company but knew that if there were ever any jobs with ICAN I would happily leave the heat to pursue my career in QLD. So here I am, one month into my employment with this awesome team and loving it.
Ronald Fave
My name is Ronald Fave. I was born, raised and educated in Papua New Guinea. My family and I migrated to Australia in October 2008 and were granted Australian Citizenship in February this year.
In January 2011, ICAN employed me Money Management Worker when I lived on Palm Island. ICAN soon offered me the opportunity for professional development. I undertook studies in the Diploma in Community Services (Financial Counselling) and the following year a Certificate IV in Training and Assessment. Today, I am an Accredited Financial Counsellor and have also been given the privilege and opportunity to serve the members of the Financial Counselling Association Queensland (FCAQ) as its Treasurer this year.
Ray Kent
I joined ICAN as a financial counsellor in 2010 and retired after four years working on Palm Island as well as the Cassowary Coast. I returned a few months ago and work three days a week as a financial counsellor in Townsville. The majority of my working life has been in the public sector in Canberra but I have moved around often and I have never done the same job for more than five years. A highlight was reforming Aboriginal and Torres Legal Services to make them responsive to clients and securing funding for the first Indigenous women's and domestic violence legal services program.
At ICAN, I have really appreciated the opportunity for further study and obtained a Diploma in Community Services (Financial Counselling) and a Cert IV Training and Assessment. Many years ago before some of you were born I obtained Bachelor of Economics and Master of Economics degrees from Sydney University. Some bloke called Tony Abbott was there at the same time but I don't recall our paths crossing.