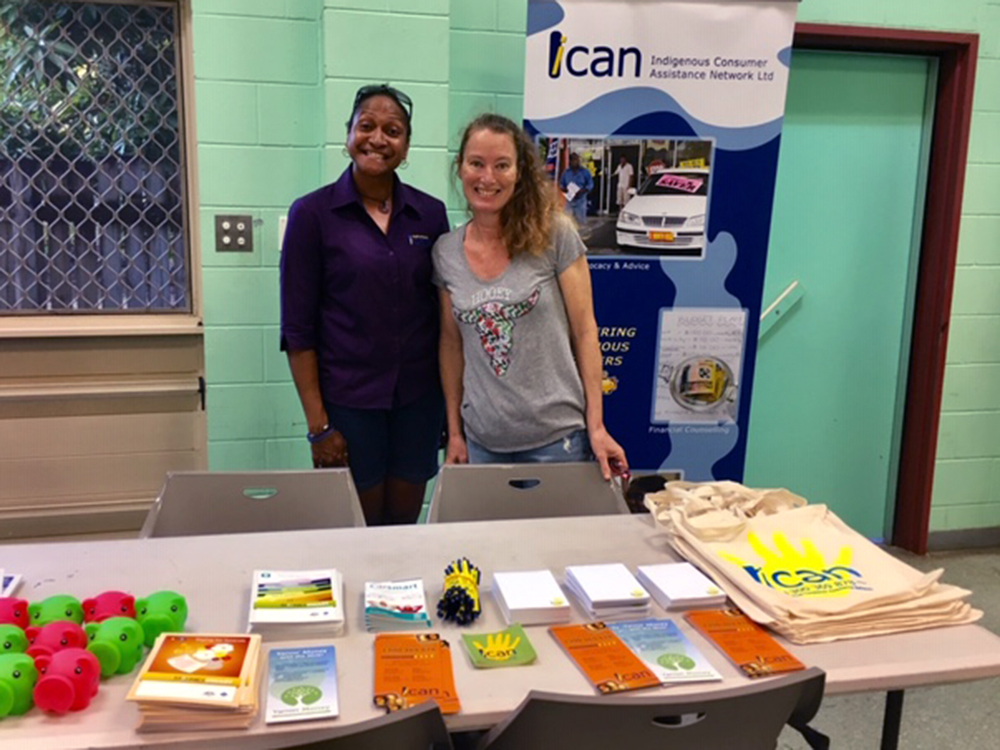 NAIDOC week celebrations were in full swing across the country in July, including a free community event on Thursday Island at the TRAWQ Community Hall, hosted by QLD's largest superannuation fund, QSuper. ICAN was excited to be part of the day, as QSuper has been an active participant and sponsor of the Big Super Day Out (hosted by First Nations Foundation) helping First Nations people understand and access their superannuation.
Thanks to QSuper, the Thursday Island community had access to not only superannuation information but a broad range of services from agency partners including the ATO; Registry of Births, Deaths and Marriages; Good Shepherd Microfinance/No Interest Loans Scheme (NILS); and of course, ICAN. There was also colouring activities for the kids, QSuper show bags and ICAN piggy banks that were a huge hit, and even free food laid on for everyone from Uncle Frankie's Café.
Jason Murray, QSuper's Chief of Member Experience, said the event is the first of its kind hosted by QSuper and hopes the breadth of partners attending will provide a one-stop-shop for accessing services not necessarily readily available on the island.
ICAN Financial Counsellors Sharon Edwards and Unaisi Buli were lucky enough to attend the event. "Many people have longstanding concerns – both simple and complex – and are unsure where to begin to resolve them", said Sharon. "Access to face to face specialist services in remote communities is limited, and negotiating matters over the phone or online is a significant barrier, so providing people with immediate assistance is incredibly rewarding."
Events like the QSuper Community Day are an excellent opportunity for community members to gain a deeper understanding of what services are available to support them, and how agencies work together to achieve the best possible outcome for their situation.
As Unaisi explains "It's great to be able to greet people at the door and take them directly to the agency they need. Many people in the community wanted to visit every booth to see what was on offer and what the service could do for them. We also had the Aboriginal and Torres Strait Islander Legal Service (ATSILS) and other large organisations on Thursday Island wanting to know more about the services we all provide. We're not just showing up for the day; we're making real connections with the community."
A matter of identity
So when you need to provide proof of ID to complete personal business, it's no biggie, right? Wrong. It's one of the first obstacles people in remote communities face when trying to resolve their financial issues. If someone doesn't have these vital document to start with, like a birth certificate for themselves or a family member, the whole process can be overwhelming, if not seemingly impossible. Personal identification is fundamental to achieving not only financial control, but it is also important information about your family, who your mob is, and where they're from.
"Community days are so important, what we do is more than help someone fill out a form," said Sharon. "It goes to the wellbeing of the community and the individual. Taking a holistic approach is integral as the impact of what we do for people can be much bigger than just having a financial win. When all of the agencies work together like this – Births, Deaths and Marriages; the ATO; QSuper; Good Shepherd Microfinance; and ICAN – we are working collaboratively to support outcomes for individuals, families and the whole community alike. Its why we do what we do."
"I feel like we've just skimmed the surface in terms of the need for events like this in the Torres Strait. These opportunities allow us to form relationships with other key services in the region so that we can work in partnership to provide ongoing access for not only Thursday Island residents, but for the outer islands as well".