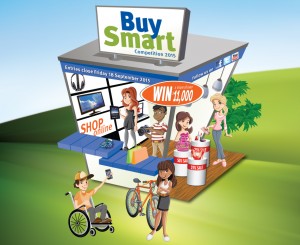 Did you know that more than 10 per cent of people who declare bankruptcy each year are under 25? Or, that 20 per cent of people under 18 have had trouble with paying their mobile phone bills? Help young people develop smart consumer skills and learn to be wise with money by entering the Office of Fair Trading's  (OFT)  Buy Smart Competition.
Entrants can win a share of over $11, 000!
Whether you are a school teacher or work with young people in a youth group, church group, community group, disability group or any other group – we encourage you to get young people involved and talking about these issues.
To take part, participants must:
Research a consumer issue.
Choose a target audience.
Create an innovative way to present the consumer issue to their target audience.
Submit their entry to the OFT.
Possible topics include:
scams
online shopping
consumer rights and responsibilities
product safety
mobile phones
spending wisely
buying and running a car
credit.
The competition is open to all Queensland students from years 4 to 12.
Past winning entries have included song lyrics, newspaper articles, PowerPoint presentations, videogames and websites. Be as creative as you like, the choice is yours!
For more information on how to enter, visit OFT Buy Smart Competition or the OFT http://www.qld.gov.au/law/fair-trading/ website. Entries close 5pm, 18 September 2015 – the final day of Term 3.