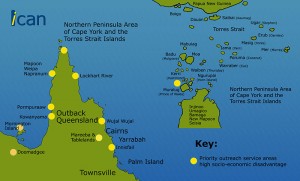 Financial Literacy Australia's Grants Program recognised ICAN's extensive experience in delivering Indigenous financial literacy programs by awarding the Yarnin' Money Project $274,000 over a three-year period. Yarnin' Money was 1 of 19 successful projects to be funded in the inaugural grants round. The Financial Literacy Australia grants program received over 245 concept proposals from a great range of non-government organisations interested in financial literacy.
The Yarnin' Money Financial Literacy program is designed for service providers and residents in remote Indigenous communities (see map). The three-phase financial literacy training program delivers two financial literacy training tools, Yarnin' Money (Service Provider) and Yarnin' Money (With the Mob). Both training programs will eventually be expanded into online professional development (train the trainer) programs for financial counselling/capability workers and community services providers nationally.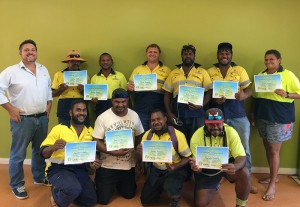 Aims of the program
ICAN aims to empower Aboriginal and Torres Strait Islander peoples to be able to make informed financial and consumer choices, in contexts and means that provide personal meaning. The training aims to assist Aboriginal and Torres Strait Islander community residents to:
Identify and understand their financial situation from (& within) historical, cultural, and personal and community contexts;
Provide a culturally-safe environment through the Yarnin' Money training style (delivery methods) to openly discuss financial and consumer issues;
Create choices with utilising their money through the Yarnin' Money Wheel (Budgeting tools/techniques);
Generate thoughts and yarns surrounding Indigenous people and money in today's society – ("If we start Yarnin' about this thing Budget/Money and we understand this component in our lives, we can try and be boss of it as best we can. Yarnin' about Money is the start of where we are today, to where our young people and generations to come, going to be in relation to how we perceive Money" -Eddie Buli, Yarnin' Money developer and trainer).
Program goals & delivery components
Financial literacy training is delivered in 12 remote Aboriginal and Torres Strait Islander communities in Far North Queensland and the Torres Strait over a three-year period;
Development of financial literacy tools that are culturally specific, to meet the needs of Indigenous people with varying levels of literacy and numeracy skills;
Train-the-trainer financial literacy training is offered to local community service providers through a face-to-face approach followed by ongoing online support through videos, cultural awareness training for non-Indigenous trainers and a variety of on line approaches including live webinar FAQ and troubleshooting on line live sessions;
Create online professional development opportunities for financial counselling /capability workers and community services providers nationally. Online financial literacy training to be offered to those who have completed the Yarnin' money Train the Trainer session which includes service providers who are Aboriginal and/or Torres Strait Islander, financial counsellors and financial capability workers nationally. The online approach will include webinar and live online delivery of aspects of the Yarnin' Money Program to ensure that the delivery mode is consistent; to provide support to transfer narrative approach skills to financial counsellors and financial capability workers.
Provide evidence of best practice methods for developing culturally-specific financial literacy content, tools and training delivery for Indigenous people in remote settings;
Yarnin' Money Evaluation Progress Reports
2016 Interim Evaluation Progress Report