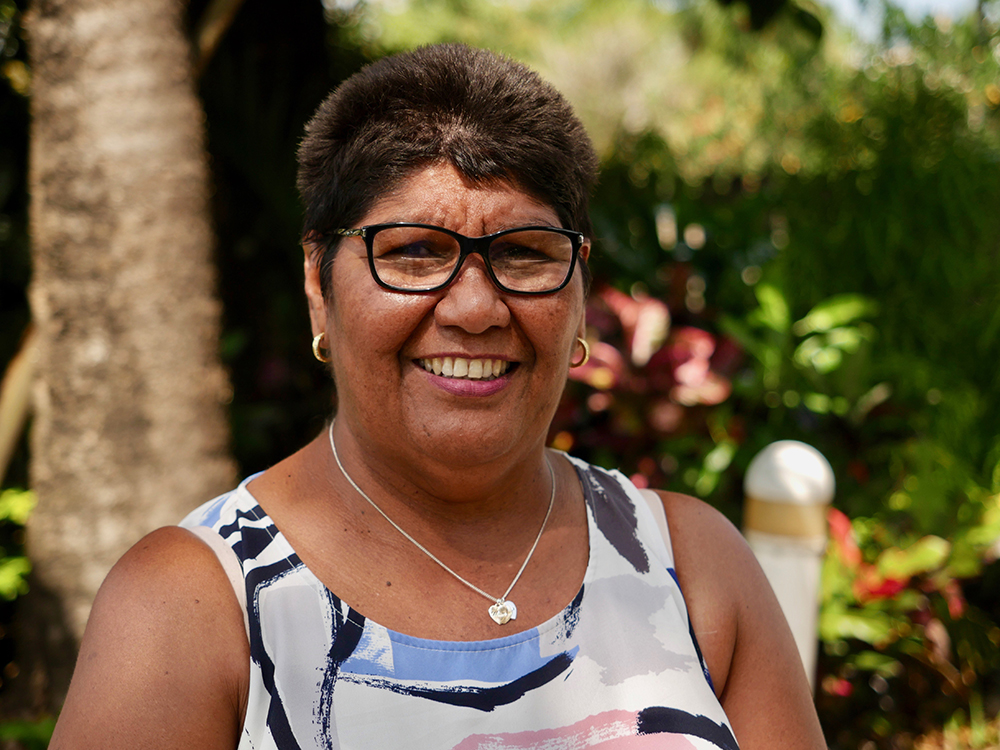 This month we're following up with Pearl Turner from Save the Children in Normanton, about her placement and study experience during the CBA Mentorship Program. Pearl is halfway through her 220 hour placement with ICAN and only has three weeks left to go.
ICAN: So, Pearl, how do you feel about finally graduating later this year?
Pearl: I'm really excited because this Diploma of Financial Counselling means so much. Not just for me, but my family, and also my employer and colleagues at Save the Children. It can be tough sometimes juggling work, family and study, but everyone has supported me so well. Coming into this as a mature aged student is a big thing, so completing the Diploma will be very rewarding. I can't wait to get out and help people in communities make changes to be financially free.
ICAN: As new students you were all in the same boat, was that a bonus?
Pearl: Yes, for sure. We all come from different parts of Australia and meet up in Cairns for our block training, so we bring different views and experiences to the classroom. We all connected from the start and have formed great friendships. We help each other out, especially when we're away from home. It's a brilliant support network that will continue long after we graduate.
ICAN: What professional support did you have access to?
Pearl: I've received a massive amount of support of ICAN's Operations Manager (and my Professional Supervisor), Jon O'Mally, as well as the entire ICAN Financial Counselling team. I can also call our Lead Lecturer, Robyn Shepherd-Murdoch, whenever I need to talk about anything. I even called Robyn to tell her how excited I was about my ICAN placement!
ICAN: How has the placement at ICAN helped you?
Pearl: Sometimes when you're in class, you might think you haven't understood something, or you'll never get it, but once you're sitting in an appointment with a client, everything you've been taught just comes together. It's so exciting and has increased my confidence. The ICAN Financial Counselling team all mentor me, so it's fantastic to get access to that amount of experience. I've recently been working with ICAN Financial Counsellor, Sharon Edwards, who took me through the whole financial counselling process from start to finish, from doing client intake and gathering documents, to sitting in client appointments and taking case notes and making case plans. Placement confirmed for me that this is definitely what I want to do.
ICAN: What have you learnt about yourself during the study process?
Pearl: I've learnt that not only am I resilient, but how disciplined I am as a mature aged student. Experience teaches you to stay focused and not give up. Life doesn't stop when you're studying, so problems are bound to come up. You can either solve them, work through them, or put them on the back burner until you get home. I'm lucky that I've got such a great family support network.
ICAN: What advice would you give anyone looking to complete the Diploma?
Pearl: I'd tell them to go for it! It will make a difference in your own life and give you the ability to help others. It doesn't matter where you're working – in the mainstream or remote communities – there's a lot of people looking for assistance. We also need to increase the number of Indigenous Financial Counsellors around the country. Indigenous people usually won't discuss money or financial issues, so having Indigenous Financial Counsellors makes a world of difference to our people. On a personal note, I also want my kids and grandkids to see that hey, here I am – their mother and nana – and I've just completed a Diploma of Financial Counselling! I want them to know that you're never too old to learn, you can do anything if you put your mind to it. Just keep your eye on the prize.