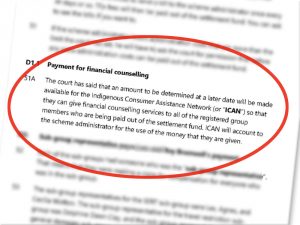 In the 2018 May ICAN E-news, we reported on the potential financial impacts of the Palm Island apology's $30 M settlement scheme. The settlement addressed the racially discriminative Queensland police response to the 2004 Palm Island riots which left many in the community traumatised. Since the; "$30M Palm Island settlement creates new challenges" E-news article was published, Justice Murphy ordered that a 'payment for financial counselling' be made under the Palm Island Class Action Settlement Scheme to support people receiving the funds.
The judgement set a precedent for financial counselling agencies like the Indigenous Consumer Assistance Network Ltd (ICAN) to be explicitly recognised in court ordered compensation or settlement schemes. Speaking on how the court order eventuated, ICAN CEO, Aaron Davis said, "We consulted with the class action law firm and scheme administrator, Levitt Robinson and developed an action plan that addressed issues identified; and that plan was eventually submitted to the court as an affidavit."
Highlighting a major concern, ICAN Financial Counsellor, Conrad Dwyer said, "We were extremely worried about the potential for the Department of Human Service's (DHS) 'Centrelink' to view the settlement scheme payment as income, resulting in a loss of social security income for a time dependent on the settlement amount and possibly creating a feast/famine scenario of mass proportion."
"When the concern was put to our DHS contacts, we were told that that the income payments were exempt from the income test in this case", said Mr Dwyer. "This relief  however came with a proviso that any ongoing income generated by the lump sum would be counted under the income test, and any assessable asset, counted under the social security assets test."
"ICAN identified early on that DHS would be a key partner in the settlement schemes implementation and made contact to discuss setting up a cross-sectoral team to address any issues arising from the settlement," said Mr. Davis. "We've also commenced planning discussions with the Palm Island Council, Commonwealth Bank, QLD Public Trustee and NQ Indigenous Consumer Taskforce members and will hold a network meeting in the coming months."
Speaking on ICAN's extra service provision throughout the duration of the settlement scheme, ICAN Operations Manager Jon O'Mally said, "We are going to extend our one day a week Palm Island financial counselling service delivery to 2.5 days. Our financial literacy program, "Yarnin' Money" will visit the island six times and we will co-ordinate two community BBQ events throughout the year with project partners, providing access to complimentary services."
"At the end of the day, we want to assist people in exploring all their financial options, so they can make informed consumer choices," said Mr. O'Mally.