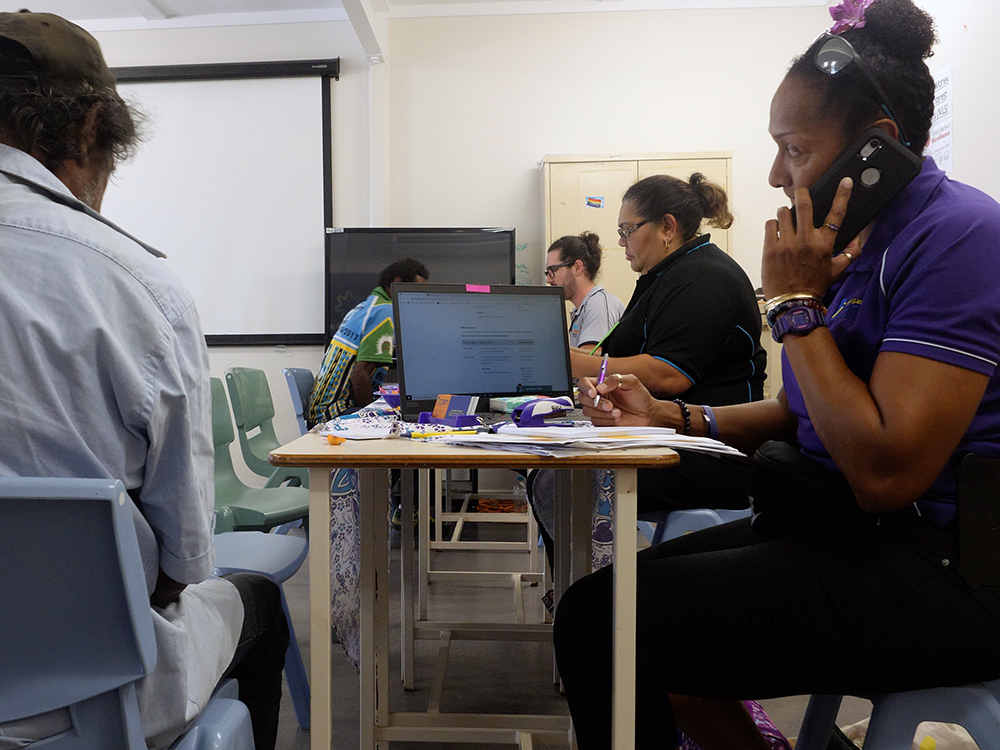 ICAN and service partners the Commonwealth Bank, Centrelink, Good Shepherd Microfinance, Many Rivers, Australian Competition and Consumer Commission (ACCC) and Queensland Office of Fair Trading (OFT) held a Yarnin' Money Day event on Palm Island, earlier this month. The one-stop-shop, set up at the local TAFE and provided superannuation, wills, banking, No Interest Loans (NILS), small business and consumer regulatory information and support services to over eighty Palm Island residents.
ICAN developed the Yarnin' Money Day concept as a pro-active response to potential financial issues arising from the $30 M Palm Island Class Action Settlement Scheme. Palm Island Mayor, Alfred Lacey presented ICAN with email correspondence from a possible scam investor offering to provide financial services to claimants. ICAN was able to have the business in question checked on the spot by Len Curran, Regional Manager at the Queensland Office of Fair Trading.
"OFT began investigating immediately," said Mr Curran. "The trader appeared to be unlicensed for the services he wanted to offer and the OFT discouraged him from visiting the island." 
"We know that large influxes of money always attract unscrupulous traders," said Mr Curran. "That's why these Yarnin' Money days are so valuable. They allow service groups and regulators to get in early and provide advice and guidance to residents on how to avoid being ripped off. Once consumers are armed with the knowledge, they can make more informed decisions on how to deal with their money."
ICAN CEO, Aaron Davis said, "The benefits of inter-agency community events like the Yarnin' Money Day are numerous. They promote collaboration, generate community interest and achieve great service outcomes. We appreciate the support of our partners and plan to continue these Yarnin' Money community events in 2020."
Cairns Good Money Store's, Damian Finitsis said, "Yarnin' Money Days are a great way to get out in the community with organisations that are doing incredible work. For me, it's really about strengthening existing relationships and forging new ones."
The Yarnin' Money Day event was complemented by a series of Yarnin' Money financial literacy workshops in Townsville and Palm Island designed explicitly for class action claimants. Final Palm Island Class Action Settlement Scheme payments are due to be released in early 2020. Dodgy traders be warned. We're watching!