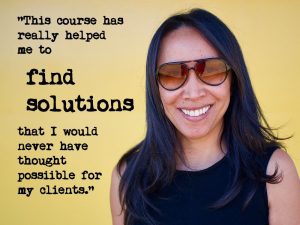 Hi!  My name is Noema Mahutariki, I work for the Benevolent Society in Cairns as a Community Development Officer and Saver Plus Co-ordinator and have recently started studying for my Diploma of Financial Counselling through ICAN Learn's Multicultural Scholarship Program.
Learning about Consumer Law and its various components is so interesting and challenging, it's been a real eye opener for me.  As part of my Diploma I also attend a weekly placement at ICAN which allows me to put the concepts that I'm learning about into practical use.  I love the fact that I'm being mentored through the whole experience.
Being part of the Program has opened up so many avenues that I can use to support clients who are struggling financially.  I'm so green when it comes to financial counselling and ask my tutor a thousand questions, but being so supported by the Program allows me in turn to support my clients. Financial literacy is such an underutilised, under resourced area, and yet it can alleviate so much struggle in communities.  This course has really helped me to find solutions that I would never have thought possible for my clients.
Being part of the Multicultural Scholarship Program has also sharpened my ideas on advocacy work.  It's changed my preconceived ideas of how people get into financial hardship and has made me realise that it can happen to anyone.  It's also given me a whole knowledge base in hardship, defaults, unconscionable conduct, and has really helped me see that we have an obligation to teach people about their consumer rights, as good will is not always displayed by creditors, banks and retailers.
I feel very privileged to be amongst the multicultural cohort of students that includes social workers, lawyers, and engineers that have landed in a foreign country and have had to re-start their life, often at 30 plus years old.  Their heart is in their community and in advocating for their community members who don't necessarily understand the terms and conditions in which they have bought and sold goods, or purchased items such as cars, furniture and who don't necessarily understand the terms and conditions in which they have bought and sold goods, or purchased items such as cars, furniture and even houses.  They are amazing people and I am constantly learning from them.  I have completed other degrees but I have not enjoyed any prior learning as much as this diploma.
Studying and working with the multicultural community continually educates me, as they share not only their struggles in a new land, but their successes as well.  They teach me what is culturally appropriate in their community, and when combined with my training, we manage to achieve amazing outcomes.  This course has been a God send for many of the other students as well – especially in supporting the struggles within their own communities.  The beauty of this course is it is so practical and absolutely NECESSARY in our region.
I have learnt so much about hardship, waivers, layby agreements, and what unconscionable lending looks like in worst case scenarios.  I have also been given the unique opportunity to see the plight of First Nations peoples and the impact of consumer contracts and sales misconduct in communities.  I'm learning from the ground up and I think for a role such as financial counselling you really do need that – it's definitely not easy but so worthwhile.