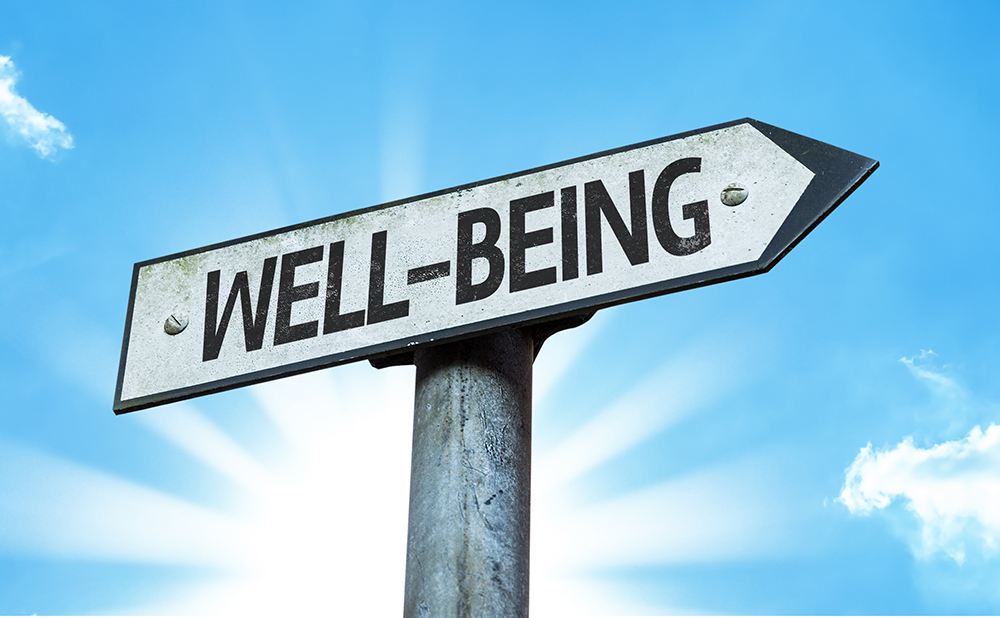 The pesky pandemic has followed us into 2021, as the annual cyclone, flood and fire season marches on. Here at ICAN we are also witnessing the stress, finances or 'lack there, of' cause at this time of the year. If your New Year's resolution was to keep well in amongst all of this, I have the article for you. I have put together a 'Top 5 Well-Being Resources' you can access from your smart phone.
The Science of Well-being – Coursera (Free course, with the option of $80 certification upgrade)
If you're serious about taking your well-being to the next level, I highly recommend taking Yale University's, The Science of Well-being on Coursera. The ten-week course takes you through "series of challenges designed to increase your own happiness and build more productive habits."1 It tackles "misconceptions about happiness, annoying features of the mind that lead us to think the way we do" and provides practical tools to be able to implement your own well-being.
The course takes you through a number of exercises that can help increase your wellbeing, such as thinking about sleep, meditation, kindness, gratitude, exercise, your relationships with other people. The course really helped me to re-assess what is most important in my life. In the time that I was doing the course, I put things in place in my life, like going bush walking and exercising daily that had dramatic impacts on my wellbeing.
2. GROOV (Free) 
Groov is an app that takes the essence of The Science of Well-being and packs it into an interactive app. "Groov is packed with evidence-based ideas and tools to help you learn how to be well and stay well. It helps you deal with the most common stressors we experience in the modern connected world today – poor sleep, anxiety and stress. These stressors, if left unattended, can significantly impact your quality of life at home and work." With Groov, you'll discover what things can help you feel more energised, more productive, and better equipped for whatever the world throws at you today."2
What I like about this app, is that it took all of my learnings from the Science of Wellbeing course and has packed it all into an app where you can practice all of the learnings – such as practicing kindness. In the app, you can spin the Wheel of Kindness to obtain a goal for the day. For example, when I spun the wheel today – it says: 'Share a good news story on social media.' It also provides tools for: breathing exercises, letting go of worries, sound mixing to create relaxation music and much more!
3. WOOP (Free)
WOOP is "a science-based mental strategy that people can use to find and fulfill their wishes, set preferences and change their habits. Based on twenty years of research in the science of motivation, WOOP presents a unique and surprising idea: the obstacles that we think most impede us from fulfilling our wishes can actually help us to realize them."3
The WOOP app and philosophy was introduced to me in the Science of Wellbeing course. It is a process to help you to achieve your goals, by first identifying the goal type – be it professional, health, or inter-personal – and writing it down. The process asks you to identify what the best outcome could be, and how fulfilling achieving your wish would make you feel. What made it stand out (for me) from other positivity imagining exercises, is that it asks you to identify the obstacles and how you would push through them in a formulated plan. The other thing I really like about using WOOP is that it's backed by research:
"In research studies, WOOP has helped people reduce stress and increase work engagement, find integrative solutions to problems, and improve time management. It has supported adults in losing weight, drinking less alcohol, and sustaining healthier relationships. Children and adolescents using WOOP improved school attendance as well as effort and achievement in school."4
And it comes with an App to help you track your goals:
4. Headspace guide to meditation – Netflix Series (requires a Netflix subscription)
Headspace Guide to Meditation is an eight-part animated Netflix series that looks at the benefits of meditation while offering techniques and guided meditations to jump start your practice. The episodes follow a how-to theme, covering how-to: get started; let go; fall in love with life; deal with stress; be kind; deal with pain & anger and achieve your limitless potential.
What I like about watching Headspace is that it is a different medium that gets you to interact with well-being techniques that isn't a course or an App. The series is created by Headspace which also has an app in the Google Play and the App Store as a monthly/annual subscription model.
5. Endel – Focus, Relax & Sleep Soundcapes
Endel is a generative soundscape app that personalises soundscapes to help you focus, relax and sleep. Endel generates music adapted "in real-time to your location, weather, and natural light exposure."5
Likely my most used app of 2020 and into 2021, what I like about Endel is how it crafts soundscapes for your mood, setting and time of day. Just starting your day? It provides you with a 'Morning Energy Rise'. Need some focus? Tap the 'Focus' button for more upbeat soundscape that help you focus but isn't intrusive to your present task. Having trouble sleeping? Endel's 'Sleep' function will provide endless generative soundscapes to manifest those Z's in soothing waves…
Endel can be used free, but if customising your soundscapes is your thing – the paid version has a few different pricing options, based on the kind of subscription that works for you.
*****
This year, ICAN is focused on incorporating well-being into our financial counselling, capability and vocational education practices. So, if you know of any great resources that we've missed, we would love to hear from you through our website at https://ican.org.au/contact-us/contact-us/.
1 Santos, L. (2021). 'The science of well-being'. Coursera. Yale University. https://www.coursera.org/learn/the-science-of-well-being.
2 Mentemia. (2021). 'About us.' https://www.mentemia.com/about.
3 WOOP. (2021a). 'About WOOP.' https://woopmylife.org/en/home.
4 WOOP. (2021b). 'The science behind WOOP.' https://woopmylife.org/en/science.
5 Endel. (2021). 'AI lullaby.' https://ailullaby.endel.io/.