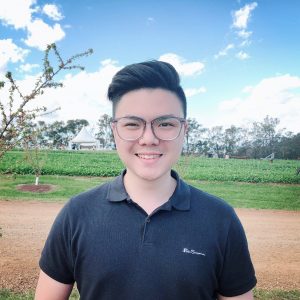 Zion Lo is a social worker with a large palliative care organisation in Victoria. He works daily with clients who are impacted by health issues and sees first-hand the disadvantage caused by chronic illness and the impact that financial difficulty has on care choices and wellbeing. Zion decided to undertake the Diploma of Financial Counselling when the opportunity arose through some key communication facilitated by Sonia Vignjevic, a Victorian Multi-Cultural Commissioner at the time. Zion Lo joined the Multi-Cultural Scholarship Program with ICAN Learn in 2018 and has since been able to offer his services as a volunteer financial counsellor to other multi-cultural organisations.
Tell us a little about yourself, how long you have been in Australia and why you decided to undertake the Diploma of financial counselling.
"I have been in Australia for about ten years. I came to Australia as an international student from Hong Kong, and I have decided to call Australia home to serve the Australian community as a social worker. In my social work practice, I am privileged to work with people who are, by large, disadvantaged by social inequality depending on our social and political discourses. While we cannot ignore the significant impact driven by our sociopolitical systems, I believe that I can to play a vital role in the community, and be part of something that is important for those who seek help. That's why I decided to undertake the Diploma of financial counselling."
Are there any challenges in learning about financial counselling as a new Australian?
"Hong Kong operates under the common law system due to its colonial history. For many new Chinese Australians, including myself, financial counselling, its values and the philosophy of this service are a new concept to me. Australia' consumer protection laws and its mechanisms are more advanced and well-developed compared to Hong Kong.
In Asian culture, my cultural heritage, financial responsibility is considered to be an individual / private matter; the "social justice" approach that is in Australia, might be foreign to those of Asian background. I can clearly remember one of my relatives accused me of learning to be a profession of helping those who are being "irresponsible" in the community.
I am extremely pleased to embrace the challenge of knowing and understanding the critical role financial counselling plays in our consumer and financial sectors, and how far financial counselling could be extended to ensure the wellbeing of our clients regardless of cultural differences. I highly recommend FC service as an essential settlement service to be promoted across different communities nationally."
Tell us about the work you do at the moment and how your financial counselling knowledge will benefit people in your community / will you be able to integrate financial counselling into your current role as a social worker.
"I practice social work in community palliative care settings and hospitals. My core work is with people affected by terminal illness and domestic violence. Undertaking the Diploma of Financial Counselling has enabled me to develop knowledge and skills to respond to clients' financial and social needs. Organisations I work for are slowly progressing on an idea of "combined professional-social worker and financial counsellor"; timely referral is critical in a crisis, and financial counsellors possess the skills and theory to assess the financial situation of the client adequately.
My Financial Counselling skills are also being utilised by the Chinese Cancer and Chronic Illness Society of Victoria (CCCIS) where I volunteer to ensure people can access information and support when in financial difficulty, regardless of their mobility, cultural differences, language barrier and life expectancy. I'd want to thank the manager of CCCIS Dorothy Yiu OAM for taking on this leadership role in the community."
As a person from a diverse background, tell us about some of the key things that will influence your work in financial counselling and capability, and what do you see as important for financial counsellors to focus on when working with multicultural clients / are there additional practice considerations?
"Clients from diverse backgrounds need cultural responsiveness, active listening and willingness to go the extra mile; doing some research into various cultures; to consider and discuss clients' social circumstances with the client are some of the vital aspects to this work to achieve sustainable outcomes. I always reflect on what my ICAN Learn educator Robyn Shepherd-Murdoch and placement supervisor Julie Trompf have humbly and genuinely demonstrated in their financial counselling practice – 'do the financial (advocacy) bit and the counselling bit'."
If there was one thing you could say about financial counselling sector development, what would it be?
"Knowledge and skills in financial counselling are crucial in different areas of human services practice. I'd love to see the integration of financial counselling into social work education and other professions, and professionals refer to financial counselling as a priority across the human services and financial sector."