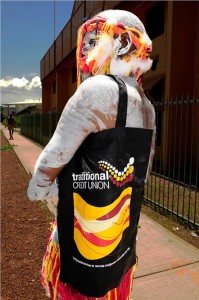 The Traditional Credit Union opened a new branch in Tennant Creek on 17th March 2014-03-14.
It comes as the organisation celebrates 20 years in business.
In what started as a request by Traditional Owners in Arnhem Land for banking services in 1994, the Traditional Credit Union has grown from one branch in Milingimbi to a network of 17 across the far reaches of the Northern Territory.
It is Australia's only Aboriginal credit union owned by and run for Aboriginal people.
Traditional Credit Union CEO Cathy Hunt said the establishment of a new branch in Tennant Creek reflected growing demand for its services.
"We're very excited to open our doors in Tennant Creek and provide local indigenous people with new and culturally relevant banking services and products, and employment and training for their future," Ms Hunt said.
The Traditional Credit Union currently services more than 7 400 members, many of whom live in remote communities.
"We play a vital role in the communities that we operate and are often the only financial institution for hundreds of kilometres," Ms Hunt said.
"We help people with their personal banking needs, as well as provide business banking solutions, financial counselling and education services, and community sponsorship."
TCU also provides stable employment and career development for people in remote communities where job prospects are often limited.
"We are very proud of their and TCU's achievements, and look forward to continuing to providing banking solutions and employment for indigenous people into the future."
The Traditional Credit Union branch in Tennant Creek is located at 135 Patterson Street and will be open to customers from 17th March 2014. For more information please visit www.tcu.com.au/.