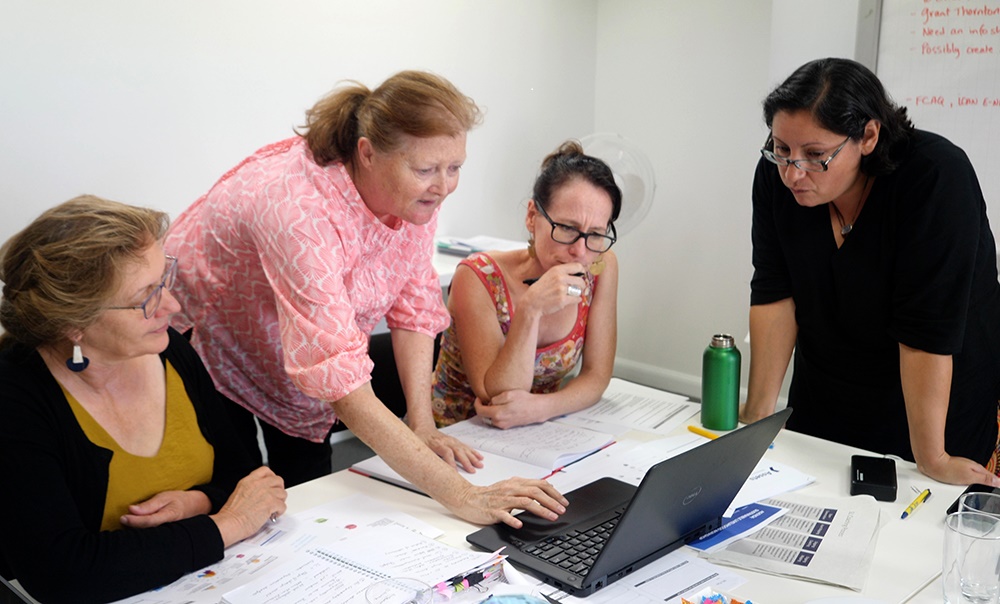 ICAN and the Financial Counselling Association of Queensland (FCAQ) hosted Janet Murray, the head of a new Canadian not-for-profit social enterprise, Sustainable Livelihoods Canada (SLC), earlier this month. During her stay, Janet conducted two full-day workshops at the annual FCAQ conference and ICAN's Cairns office. The intensive workshops provided Queensland's financial capability practitioners and the ICAN team an opportunity to explore the philosophy behind the Sustainable Livelihoods model.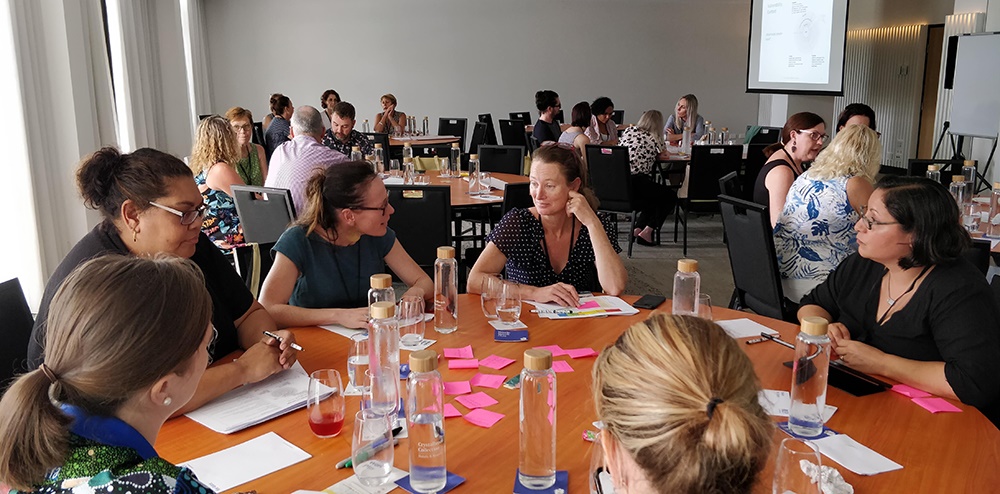 The sustainable livelihoods philosophy
Janet described the model as a holistic approach to poverty reduction, that addresses people's social and economic exclusion, by promoting community organisations' capacity to build resilience and livelihoods.
ICAN's program development team witnessed the Sustainable Livelihoods model in action during a Canadian study tour in 2019. Aaron Davis, ICAN CEO, said "When we visited SEED and Momentum, two of Canada's premiere community economic development organisations, the sustainable livelihoods model really stood out as an integral component to achieving both successful and measured outcomes. We also felt that Sustainable Livelihoods married well with Yarnin' Money's strengths-based approach."
Janet explained how Sustainable Livelihoods is becoming a movement in response to the increased "siloing" and institutionalisation of front-line client services in Canada. "We're aiming to swing the pendulum back towards more holistic, people-centred services, starting where people living on low-incomes are really at", said Janet. "Social development services in Canada often focus on narrow, unrealistic outcomes that force front-line workers to skip over critical, 'up-front' foundation building with marginalised people."
Sustainable livelihoods model grew from an evaluation tool
"Sustainable Livelihoods was originally adapted to front-line work with people living on low-incomes as a part of a national, multi-site evaluation", said Janet. "The asset mapping tool was developed as a way of engaging front-line staff as "Practitioner Researchers" who did pre/post interviews with a sampling of their clients. To our surprise, they loved using the holistic tool and saw that the practice itself had an impact on client results."
"They began using it in their day to day work, and organisations started coming to us with requests for training in the methodology," said Janet. "Evidence from our evaluations of over 10 projects has confirmed that the practice improves outcomes."
On ICAN & ICAN Learn's Sustainable Livelihood implementation strategy
"I had a really productive planning day with the amazing ICAN team," said Janet. "ICAN has grasped the concepts underlying Sustainable Livelihoods and moved quickly to explore ways of using the framework and tools, and even come up with a number of innovations."
"I was most impressed by the sophistication and sensitivity of the emerging strategy to implement Sustainable Livelihoods," said Janet. "It gives ICAN staff time to use and become comfortable with the concepts and process before moving on to engage clients. I believe that this 'patient' approach will be more effective at getting people on board, and will result in an approach and language that are adapted to your local context and work."
"This is our first international gig and I can see that there is potential for long-term collaboration, mutual learning and partnership," said Janet. "I'm looking forward to seeing what innovations you make with the model in the financial coaching space in Queensland!"
Visiting Cairns, North Queensland
"Wow! Cairns is a wonderful place! My partner Bruno and I can't thank you all enough."
"Around my work with the FCAQ and ICAN, we managed to do two wonderful trips to the reef (the Frankland Islands, in particular, were spectacular), a hike at Mossman Gorge, the Market at Port Douglas, a concert at the Tanks, and much more. I've been surprised at how little Canadians know about Australia and will go back as an ambassador for your lovely community."
"Thanks so much to Aaron, Jon, Carmen and all the ICAN staff for their warm welcome and outstanding hospitality!"