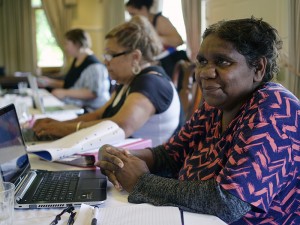 Every month in the lead up to our 2016 Graduation, ICAN will be featuring the students of its "Indigenous Financial Counselling Mentorship Program" here in the ICAN E-News.
The Mentorship program provides nationally accredited and recognised training through the Diploma of Community Services (Financial Counselling), and offers personal and academic mentorship in a supported learning environment, connecting students through face-to-face classroom and weekly online training sessions. It reflects the growing number of Aboriginal and Torres Strait Islander peoples working in the financial counselling and capability sector, with nine financial capability workers, six financial counsellors and one financial literacy trainer currently participating in the 2015-2016 program.
This month, we meet Mary-Lou Bailey of Red Cross (Alice Springs) and Ian Bloomfield of Kildonan Uniting Care (Melbourne)…
Mary-Lou Bailey
Mary-Lou Bailey originates from the community of Ampilatwatja, located 100km North-East of Alice Springs.  Mary-Lou is a Financial Capability Worker with Red Cross in Alice Springs, with over five years of experience in Money Management with Lutheran Community Care and the Red Cross.  Her experience in travelling through the Mentorship Program has been a positive one. Mary-Lou expressed that learning about financial counselling, as well as learning from the experiences of fellow students has been able to assist her in carrying out her own financial capability work at the Red Cross.  She noted that with the rise in superannuation issues in the communities she works with, her participation in the Mentorship program has been timely.  Working through the 'Finance and Legal Skills" unit cluster over the last four months has assisted her to better understand the issue – especially in the area of accessing superannuation when someone has passed on, to be able to better inform and assist family members in this situation.
Mary-Lou has found the program provides her with learning and networking opportunities with other students.  "At first, meeting new people was hard, because I come from a remote community where we only speak language" she said.  "Getting out there and speaking English as a second language was hard for me at first, so it's been a good experience to meet and work with everyone in the group."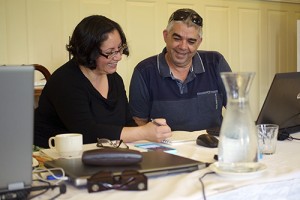 Ian Bloomfield
Ian Bloomfield of Kildonan Uniting Care (Victoria) is hoping his participation in the Mentorship Program will assist him to develop an Aboriginal specific financial counselling program within his organisation.  For Ian, networking with other Indigenous financial counsellors and financial capability workers from across Australia and learning from their experiences, has been a highlight of the program.  Although Ian is new to the financial counselling sector, he brings 25 years community services experience to the table. Ian noted  that the Mentorship program provides an insight into the practice of financial counselling, an area he is interested in working in.  As Manager of the Koori Energy Efficiency Program (KEEP) at Kildonan, Ian is seeking to develop his own financial counselling skills, and to grow the numbers of practicing Indigenous financial counsellors in Victoria.
The second national Mentorship program commenced in July, bringing together Aboriginal and Torres Strait Islander students from Queensland, New South Wales, Victoria and the Northern Territory, including the Tiwi Islands.  The program is delivered in partnership with the Commonwealth Bank of Australia, who sponsors scholarships for Aboriginal and Torres Strait Islander student participants to successfully undertake the Diploma of Community Services (Financial Counselling).  The Commonwealth Bank Mentorship Program Scholarships cover the full course fees for the Diploma. Student participants of the Mentorship Program are meeting in Cairns this week for their third face-to-face block training through the 'Finance & Legal Skills' unit cluster.