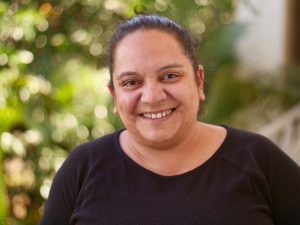 Every month in the lead up to our 2019 Graduation, ICAN features students of its "Indigenous Financial Counselling Mentorship Program" here in our E-News. This month, we meet Bec Gollan, a Ngarringjeri mimini (woman) from Raukkan, located approximately 3 hours southeast of Adelaide in South Australia.
Bec has been working as a Financial Counsellor with the Aboriginal Legal Rights Movement (ALRM) in Adelaide for over a year and started studying her Diploma of Financial Counselling two weeks after beginning her role with ALRM in October 2017.
What has been your experience so far through the Mentorship Program?
The program has been really good because starting in the role of a Financial Counsellor last year was new to me, so I've learned a lot in this course. Our job gets so busy that we're also learning on the job, but there's some things we may not know, so the course has helped me personally to make sense of my job role as well. So I'm learning a lot about the practice of financial counselling here in the course and then putting that into practice back home. And the support we get here as well – is really great. So even though I live in Adelaide, I still feel like I have a big network of support through this program.
How has the Mentorship Program assisted you in your own work?
There's a lot of ways the program helps – really with the knowledge, things that I've learned here. Sometimes, I might have a tricky issue come up in my job, and I think to myself – I know there's something about this in my notes [from the course]. So I look those up and sure enough, it's something that we've covered in the course. And there's two parts of how the program helps me. First, there's the mentorship. And second, there's also the other students here. We compare our knowledge and our experience, and I find I go home to Adelaide and everything just makes a bit more sense. There's a lot of similarities with Aboriginal people full stop, doesn't matter where you come from – we all go through some similar things, but there are also some differences in experiences, depending on where you live. So I'm finding that a lot of the issues that we see on the ground are similar but may be experienced differently depending on what state we live in. So when we speak in class about the financial or consumer issues that we're seeing in our own areas, other students will often go – oh that's similar to what's happening where I'm from…
What kind of personal and/or professional benefits has the Mentorship Program provided you with?
I've realised some strengths that I didn't know I had, and also owning those strengths as well. I've got a passion for community and for this kind of work, I always have. So to be able to do this as a job – I feel like I'm pretty good at what I do and I'm proud to be able to finally say that! I think that's been a really big thing for me, and it's a big thing for Aboriginal people to be able to say as well, to be able to stand up and say, I know what I'm doing. This course has helped to give me that confidence!
What has been your experience in doing the course with other Indigenous students?
We've got such a great group in the class, and I've felt really comfortable here with them. We're like a family now and that support for each other is a constant, whether we're in the room in class or back home in our different states. We all call and email each other or just send a text to say How ya goin' Sis? They all pick me up and give me that motivation. The communication and friendships we have is really a great part of doing this course.
*****
Through ICAN Learn, the Mentorship program provides nationally accredited training through the Diploma of Financial Counselling, and offers personal and academic mentorship in a supported learning environment, connecting students through face-to-face classroom and weekly online training sessions. It reflects the growing number of Aboriginal and Torres Strait Islander peoples working in the financial counselling and capability sector, with 10 Financial Capability Workers, 1 Financial Counsellor, 1 Financial Literacy Trainer, 1 Financial Resilience Worker and 2 Program Managers currently participating in the 2017-2019 program.
The third national Mentorship program commenced in October 2017, bringing together Aboriginal and Torres Strait Islander students from Queensland, New South Wales, Victoria, South Australia and Western Australia. The program is delivered in partnership with the Commonwealth Bank of Australia, who sponsors scholarships for Aboriginal and Torres Strait Islander student participants to successfully undertake their Diploma of Financial Counselling. The Commonwealth Bank Mentorship Program Scholarships cover the full course fees for the Diploma.
Students of the Mentorship Program are expected to graduate in mid-2019.