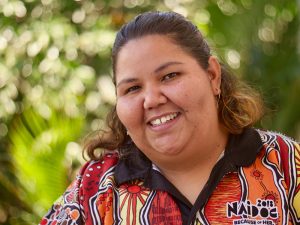 Every month in the lead up to our 2019 Graduation, ICAN will be featuring the students of its "Indigenous Financial Counselling Mentorship Program" here in our E-News.
This month, we meet Norma Callaghan, a Jaru woman from the East Kimberly, living in Derby, West Kimberly. Norma is the youngest student in the 2017-19 program and brings her experience of working as a Financial Capability Worker with the Ngunga Women's Resource Centre in Derby (Western Australia), for the past three years. Now ready to pursue new opportunities, Norma discusses her journey through the Mentorship Program so far and where she hopes her Diploma of Financial Counselling will take her when she graduates next year…
Being a student in the Mentorship Program has given me so much more insight into the many issues that we as Aboriginal people are facing financially. It has given me a realisation of how I can give back to my community and how I can help my people. I am really passionate about fighting for my people's rights and I really feel like I've found a home in studying financial counselling. It's very much about standing up for our people and I feel like it's a career I'd really love to do.
Being in the course with many other Indigenous people from around the country has been awesome. Through this course, I've been learning about the different communities and places that we all come from, and the systemic issues that may be happening in their areas, and how they are connected and relate to the issues we experience in our own community in Derby. The financial and consumer issues are very similar but also can be very different, depending on the area we come from.
It's really helped me to learn about how the others in the course practice financial counselling and capability in their own communities, and how they are helping their own people. The course gives us the opportunity to be able to discuss these things. Being with other Indigenous students has really helped me to connect to others, and learn about the many diverse backgrounds we come from as Aboriginal people. We are all Indigenous but we still have differences within our cultural practices and our traditions and how we work with our people. I feel like I get to experience that knowledge sharing through this course.
As we've gone on this journey together to study our Diploma, we've all come to know each other and support each other. For me, the social networking that I get through the Mentorship Program is a big part of what I love about the program, because I live in a very remote community. It can be very isolating living remotely, so the program has given me an opportunity to make friends and grow my professional network. As students, we all support each other and I'm always learning from them.
Right now, I'm focusing on my studies and working towards my goal of getting my Diploma. I want to explore other parts of Australia and I'm hoping that getting my Diploma will take me to new places. I feel that the Diploma of Financial Counselling will open doors for me and I'll be ready for the next adventure!
Through ICAN Learn, the Mentorship program provides nationally accredited training through the Diploma of Financial Counselling, and offers personal and academic mentorship in a supported learning environment, connecting students through face-to-face classroom and weekly online training sessions. It reflects the growing number of Aboriginal and Torres Strait Islander peoples working in the financial counselling and capability sector, with 10 Financial Capability Workers, 1 Financial Counsellor, 1 Financial Literacy Trainer, 1 Financial Resilience Worker and 2 Program Managers currently participating in the 2017-2019 program.
The third national Mentorship program commenced in October 2017, bringing together Aboriginal and Torres Strait Islander students from Queensland, New South Wales, Victoria, South Australia and Western Australia. The program is delivered in partnership with the Commonwealth Bank of Australia, who sponsors scholarships for Aboriginal and Torres Strait Islander student participants to successfully undertake their Diploma of Financial Counselling. The Commonwealth Bank Mentorship Program Scholarships cover the full course fees for the Diploma.
Student participants of the Mentorship Program met in Cairns last week for the: counselling, mental health and drug & alcohol units in the program, and are expected to graduate in mid-2019.