In the lead up to our 2016 Indigenous Financial Counselling Mentorship Program Graduation, we will feature two students in every edition of the ICAN E-News. In Part 3 of the series, we meet Damien Hampton of Lutheran Community Care (Alice Springs, NT) and Lahn Mickan from the Aboriginal Legal Rights Movement Inc (Ceduna, South Australia).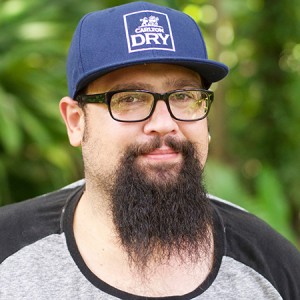 Damien Hampton, Lutheran Community Care
Damien Hampton is a Financial Capability Worker with Lutheran Community Care in Alice Springs. Damien comes to the Mentorship Program with fourteen years experience working in the community service sector, with Families South Australia and the Child Abuse Report Line/Crisis Care. It was working in these positions where Damien began to understand how money and financial issues can often have long-term effects on Aboriginal people. "Working in community services involves a lot of financial counselling-related work in areas of budgeting, emergency relief and other related financial matters," said Damien. "That's what made me interested in taking the Mentorship Program and learning more about financial counselling."
Now that the Mentorship Program is at its halfway point through the Diploma of Community Services (Financial Counselling), Damien reflects on how the course has impacted on him both personally and professionally. For Damien, it has been the delivery style of the Central Institute of Technology trainers, as well as undertaking the program with an all-Indigenous student body that have impressed him.
"The program has been really amazing in how it's delivered, which suits my learning style," said Damien. "Doing the course where all of the students are Aboriginal has been a great experience as well. It's been a different approach, as far as the teaching style and how we learn from one another as students and as Aboriginal people."
In the program, students from across Australia not only receive training through the Diploma of Community Services (Financial Counselling), they also enjoy a peer-to-peer learning environment. "In the course, we have a lot of opportunities to hear about the experiences of other students working in their own communities," Damien said. "I'm able to identify with their experiences and learn from them. The sharing of experiences from other Indigenous financial counsellors and financial capability workers gives us knowledge and confidence in how to deal with certain issues, because although we're located in different parts of the country, our communities often face similar consumer and financial detriment."
"It's so valuable to be able to take the experiences and practices of other students and apply them to my own work in Alice Springs."
Damien expressed he's already finding the course beneficial in his own work. "The course has assisted me immensely in my work. I am gaining a good understanding of financial counselling and am able to put these new skills to use in my daily work."
One of the subjects covered in the program has been debt and the debt recovery process. Damien explains how learning about the debt negotiation process has provided the skills and knowledge to understand and better support his clients. "The course has helped me in negotiating with creditors and debt collectors on behalf of my clients, who really need the support, being located in some very remote communities" he said. "I used to know the basics, but with the knowledge I am gaining, I feel confident to be able to go the extra mile, in assisting my clients to get a better outcome."
"It's given me a lot of confidence in being able to do my job."
Community work has always been Damien's passion, and his future aspirations are to become a qualified, practicing financial counsellor.
"At the end of the day, it's about the community," he said. "I want use my future role as a financial counsellor to work alongside my people and to better my community."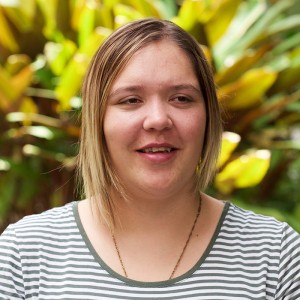 Lahn Mickan, Aboriginal Legal Rights Movement
Lahn Mickan is a Civil Field Officer and Administration Support at the Aboriginal Legal Rights Movement in Ceduna, South Australia. Lahn's interest in undertaking the Mentorship Program started when ALRM saw an opportunity for Lahn to become a qualified financial counsellor, to increase the organisation's support to the communities they service, where there is a high demand for financial counselling.
Lahn noted that with the upcoming rollout of the Healthy Welfare Card trial in Ceduna in early 2016, she felt it is timely to study her Diploma of Community Services (Financial Counselling), where there will be an increased need for financial counselling services for Ceduna and surrounding communities.
Of her experience in travelling through the Mentorship Program so far, Lahn expressed she is gaining both personal and professional benefits from taking the program. "Personally, I've just bought a house, which – being a woman and being so young – is a massive step for me," she said.
"The program has given me the opportunity to be able to budget and plan for the future and has assisted me to learn how to keep on top of my finances in the short and long-term."
Although Lahn is not yet a practicing financial counsellor, she has found her study through the Diploma of Community Services (Financial Counselling) has assisted her in her daily work, where she sees many clients who present to ALRM with debt stress and other matters. "The course has assisted me to better understand their financial issues and more complex situations," she said. "The tools that I've gathered over the last four blocks* has helped me to be able to either refer clients appropriately, or to be able to provide the initial support needed."
Lahn also discussed the benefits she feels in taking the program with other Indigenous students. "Being Aboriginal myself and hearing the stories from the other students, gives me an understanding of how other students deal with similar financial counselling situations that we see down in South Australia," she said. "I also feel like it's given me a wider knowledge and understanding of other Aboriginal cultures and people."
The Mentorship program provides nationally accredited training through the Diploma of Community Services (Financial Counselling), and offers personal and academic mentorship in a supported learning environment, connecting students through face-to-face classroom and weekly online training sessions. It reflects the growing number of Aboriginal and Torres Strait Islander peoples working in the financial counselling and capability sector, with nine financial capability workers, six financial counsellors and one financial literacy trainer currently participating in the 2015-2016 program.
The second national Mentorship program commenced in July, bringing together Aboriginal and Torres Strait Islander students from Queensland, New South Wales, Victoria, South Australia and the Northern Territory.  The program is delivered in partnership with the Commonwealth Bank of Australia, who sponsors scholarships for Aboriginal and Torres Strait Islander student participants to successfully undertake the Diploma of Community Services (Financial Counselling).  The Commonwealth Bank Mentorship Program Scholarships cover the full course fees for the Diploma.
Student participants of the Mentorship Program finished their fourth face-to-face block training for the year, and will recommence in 2016.
*The Mentorship Program delivers six week-long block training sessions where students meet periodically in Cairns, for face-to-face 'block' training.