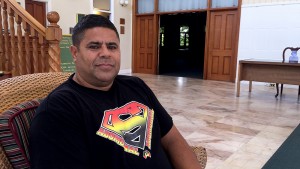 In the lead up to our 2016 Indigenous Financial Counselling Mentorship Program Graduation, we are featuring two students of the "Mentorship Program" in every edition of the ICAN E-News.  In part 2 of the series, we meet Rodney Davison of the Northern Rivers Community Gateway and Jeanine Siles from the Kempsey Neighborhood Centre in Northern New South Wales.
Rodney Davison, Northern Rivers Community Gateway, NSW
Rodney Davison is a Case Manager of a new program called "Helping Hands" to address homelessness, at the Northern Rivers Community Gateway in Lismore, New South Wales. As a Case Worker for five years, it has been the frequency of financial counselling issues that arise when working with his clients, which piqued his interest in joining the Mentorship Program and studying the Diploma of Community Services (Financial Counselling).
"I can see that becoming a financial counsellor would be a good opportunity for me, to do this work in Lismore," said Rodney.  With a high Indigenous population in the Lismore and surrounding areas, Rodney's passion lies in becoming the first Indigenous financial counsellor in the Northern Rivers area.
For Rodney, working through the Diploma is assisting him to be better able to help his clients. "The course has given me greater knowledge of where to find information for my clients, helpful websites for information on financial hardship and superannuation and linking up my clients to those places," he said.
"I've learned that through financial counselling, I can empower my clients to know their consumer rights, so they don't have to feel that they are in a vulnerable position – that there are options when dealing with payday lenders and other predatory lending types.
"I have a passion for helping my people and I want to be able to give them the options that maybe they don't know about.  I feel that I can guide them in the right direction to be able to deal with those situations."
"I feel like this work is very empowering.  It's about being able to not only just represent my clients, I can also represent my organisation and be a role model in the community."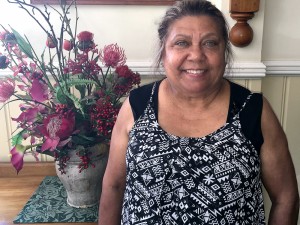 Jeanine Sines, Kempsey Neighbourhood Centre, NSW
Jeanine Sines is an Aboriginal financial counselor with the Mid North Coast Indigenous Financial Counselling Service, run by the Kempsey Neighbourhood Centre in New South Wales.  Having been a practicing financial counsellor for over five years, Jeanine wanted to join the Mentorship Program to attain the Diploma qualification in order to meet the requirements of FCAN*, the peak membership organisation for financial counselors in New South Wales.
Of her experience in travelling through the Mentorship program, Jeanine notes that meeting other Indigenous people as well as learning new legal skills for practicing financial counselling, have been the highlights so far.
"It's been great to meet and work with other Indigenous people from across the country," said Jeanine.  "Learning about the experiences of other people and how they deliver financial counselling for their communities has been very interesting."
"It's just tremendous to meet some people from places like Mornington Island and places like that and learning about their cultures, their communities, compared to ours in New South Wales.  It feels like we're one big family."
Although Jeanine is already a practicing financial counsellor, working through the Finance and Legal Skills units have provided her with the tools needed to fully support her clients. "Learning about the different Codes of Practice has been of real interest to me, and how those fit into the Australian regulatory framework.  So for me, it's been a lot of really practical learning."
"It's opened my whole world up, to understand and learn new financial counselling skills. It's opened the doors up for me now, knowing my rights, the rights of my clients and gives me confidence in what I'm going to be talking about with my clients."
"I've been a financial counsellor for 6 years. I've always learned on the job, so with this course and qualification, I'm gaining much more knowledge now.  When I'm finished the program, I'll be able to say: "Well, I've got my Diploma, I'm set!"
The Mentorship program provides nationally accredited training through the Diploma of Community Services (Financial Counselling), and offers personal and academic mentorship in a supported learning environment, connecting students through face-to-face classroom and weekly online training sessions. It reflects the growing number of Aboriginal and Torres Strait Islander peoples working in the financial counselling and capability sector, with nine financial capability workers, six financial counsellors and one financial literacy trainer currently participating in the 2015-2016 program.
The second national Mentorship program commenced in July, bringing together Aboriginal and Torres Strait Islander students from Queensland, New South Wales, Victoria, South Australia and the Northern Territory.  The program is delivered in partnership with the Commonwealth Bank of Australia, who sponsors scholarships for Aboriginal and Torres Strait Islander student participants to successfully undertake the Diploma of Community Services (Financial Counselling).  The Commonwealth Bank Mentorship Program Scholarships cover the full course fees for the Diploma. Student participants of the Mentorship Program are meeting in Cairns this week for their fourth face-to-face block training through the 'Community Development' unit cluster.
*Financial Counsellors' Association of NSW