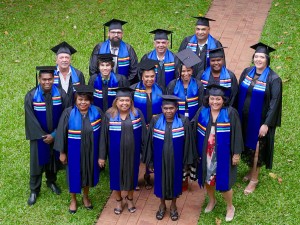 Extend your skills, become a leader of change in your community!
ICAN Learn, as the new social enterprise training arm of ICAN is offering a fantastic opportunity for you to become a professional financial counsellor through our unique scholarship program generously offered once again in partnership with the Commonwealth Bank.
ICAN Learn is currently accepting Expressions of Interest for scholarship placements for its 2017 "Indigenous Financial Counselling Mentorship Program." (IFCMP). Due to commence in July / August 2017, the 18-month training program offers the Diploma of Financial Counselling, the key requirement to work as a financial counsellor, the program is available nationally to Aboriginal and Torres Strait Islander peoples working in financial counselling and financial capability roles. The program includes personal and academic mentorship in a supported learning environment, connecting students through virtual and face-to-face classroom oriented training.
The IFCMP Scholarships are sponsored by the Commonwealth Bank and are available to assist students who are currently working in financial counselling and financial capability (money management) roles, to successfully undertake the Diploma of Financial Counselling to meet professional requirements. The Commonwealth Bank Mentorship Program Scholarships cover the full course fees for the Diploma. Scholarships are limited to 12 places and are co-ordinated and managed by the Indigenous Consumer Assistance Network.
In nine years, the program has scaled significantly to achieve a national reach.  ICAN has successfully graduated 19 participants through its 2012 and 2014 programs, and celebrated the most recent graduation of 15 participants in June 2016. With the Commonwealth Bank's continued investment, 12 scholarships for Indigenous students are available  in the 2017-2018 program.  The Mentorship Program is recognised within the financial counselling sector as a best practice training model for Indigenous people wishing to undertake the Diploma; a model that is being replicated for mainstream delivery by ICAN Learn.
"We're embarking on a new journey with the 2017 program rollout," said Majella Anderson.  "In a Commonwealth Bank-funded scholarship arrangement, we are in a unique position to be able to support the professional development of Aboriginal and Torres Strait Islander people in some very remote locations across Australia, where organisations, financial counselling staff and their clients can directly benefit from the Mentorship Program."
You can register your interest in becoming a Diploma of Financial Counselling student in 2017, by contacting Majella Anderson at: 1300 369 878 or by email at: majella.anderson@ican.org.au. Alternately, you can register your interest on our website at: http://ican.org.au/programs/ican-mentorship-program-information/
Expressions of interest for the next program close at the end of May 2017.