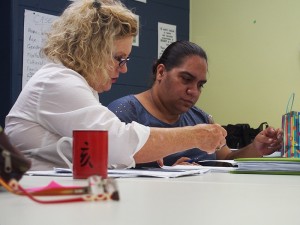 Participants from across the country are getting ready to graduate through ICAN's first national Indigenous Financial Counselling Mentorship Program!
Earlier this month, students from Derby (WA), Alice Springs (NT), Port Augusta (SA), Western Sydney (NSW), Cairns and Yarrabah (QLD) gathered in Cairns for their block training week, the final face-to-face training session before the group meets again in June for their outreach activities and graduation through the Diploma of Community Services (Financial Counselling).
"The group is excited to be nearing completion of the Program," said Majella Anderson, ICAN's Training Coordinator and head of the program. "They've been on this journey together and are looking forward to their graduation ceremony in June."
"The latest training block focused on the counselling units and was the final unit cluster in the program" said Ms Anderson. When the students meet again in June, the final block will entail student field trips out Yarrabah, Mossman and Cairns, visiting services providing financial counselling assistance to Indigenous clients. "The week will end with the graduation ceremony," Majella said.
In a recent ICAN survey, Mentorship Program participants discussed how they are traveling through the program thus far and the personal and professional benefits they have experienced along the way.
Key findings from the survey included professional development in financial counselling (acquiring technical knowledge in: legislation, bankruptcy and client advocacy) and personal development through developing networks and peer support systems through the program. Students mentioned the course gave them increased personal confidence and knowledge in financial counselling, which they have been able to incorporate into their roles in their home communities, with one comment highlighting how the course has provided a student working remotely, with the tools to identify and advocate on behalf of a client's consumer issues. One participant commented on the program's supportive and flexible learning environment that allowed for sharing a wide range of financial counselling experiences from around the country.
During the April training week, Aaron Davis, ICAN CEO, put on his video producer hat, using the time to film the final shots for a short documentary on the program. The documentary will be screened at the upcoming Financial Counselling Australia conference in Melbourne. Coinciding with the screening at the May conference, ICAN plans to launch the second national Indigenous Financial Counselling Mentorship Program, with enrollment intakes to be announced soon.
For more information contact Majella Anderson, ICAN Training Coordinator on 07 40311073.