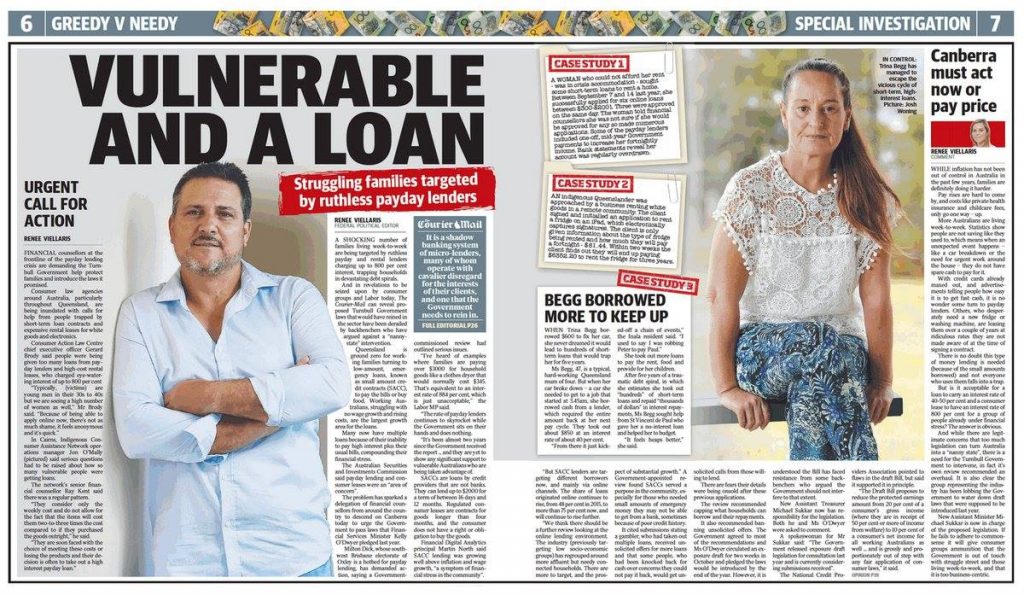 In September 2017, ICAN covered a joint lobbying campaign organised by the Consumer Action Law Centre (CALC), when consumer advocates from around the country – including ICAN – converged on Canberra to brief government Ministers, Senators and Federal members on the "Small Amount Credit Contract Review" and advocate for the proposed recommendations for increased consumer protections for payday loan and consumer lease borrowers.
The following month, Michael McCormack, then Minister for Small Business, published the National Consumer Credit Protection Amendment (Small Amount Credit Contract and Consumer Lease Reforms) Bill 2017 as an exposure draft for comment. In October 2017, the Minister's press release 'Taking action to protect vulnerable consumers' stated: "the Government will introduce legislation this year to implement the SACC and consumer lease reforms." Four months followed with no clear timeline for legislation implementation, highlighting the need to once again ramp up lobbying efforts.
A 'Payday Mayday' exclusive was released by the Courier Mail on February 5th urging the Turnbull government to act on greedy lenders. The exclusive featured a double-page spread and editorial tackling the issue brought forward by Australia's financial counselling and consumer advocacy sector. Concurrent to the Courier Mail article, an inter-agency delegation met with a range of MP's and Senators to brief them on the urgent need to get the legislation passed in Parliament. Following the meetings, Consumer Action Law Centre, Financial Rights Legal Centre, CHOICE, Financial Counselling Australia and the Indigenous Consumer Assistance Network (ICAN) sent a joint letter to all Federal Parliamentarians urging a swift enactment of proposed payday loan (small amount credit contract) and consumer lease reforms.
Less than a week later (February 14th), Tim Hammond, Labor Shadow Minister for Consumer Affairs put out a press release* announcing that: "the Labor government will take the necessary action required to protect vulnerable consumers from predatory loan sharks and shonky rent-to-buy traps by introducing the Government's own neglected legislation. 
"Labor's Small Amount Credit Contract (SACC) bill replicates word-for-word the Government's own draft legislation which once enjoyed bi-partisan support, before a group of Coalition backbenchers now known as the 'Parliamentary Friends of Pay Day Lenders' had the legislation buried.
"Malcolm Turnbull's crab-walk away from his own Government's SACC reform commitments have left hard working Australian consumers, mums and dads, at the mercy of unscrupulous payday lenders and those peddling mercenary rent-to-buy schemes.
"Payday loan consumers have already waited long enough for these new laws. If the Government is still committed to helping vulnerable consumers – like they said they would – they must vote for this bill – their own bill."
Aaron Davis, ICAN CEO, hopes there will eventually be cross-party support for these reforms on the floors of Parliament, to protect consumers from descending into a spiral of financial exclusion. "We know our combined lobbying efforts have made traction as the Royal Commission into banking and financial services has asked our organisation to provide evidence on Indigenous consumer detriment caused by these financial products and services," said Mr Davis.
We are urging our network of community lawyers, financial counsellors and clients to help get these important reforms over the line. If you want to get involved, you can: contact your local electorate office, ask for a meeting and explain why these reforms are needed. ICAN is able to provide advice to those wanting to join this important lobbying effort.
Graham Smith, Hunter Region-based financial counsellor and chair of the Financial Counsellors Association of NSW (FCAN), is one member of our community that has already taken up the challenge, meeting with Federal Hunter MP Joel Fitzgibbon to discuss the much needed reforms. In a recent Newcastle Herald interview, Mr Fitzgibbon said it was vital that the government forged ahead with the legislation. "The Minister has already said that the government supports the vast majority of the recommendations, in part or in full, so it's time we saw some action to protect vulnerable Australian families," he said.
*Hammond, T. (2018). 'As sharks circle the Government – Labor does Turnbull's job for him.' Media Release. February 14.