By Aaron Davis – CEO, Indigenous Consumer Assistance Network Ltd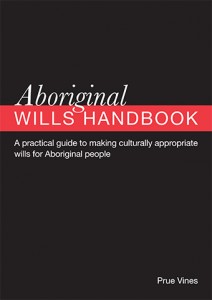 According to a new publication, Aboriginal Wills Handbook by Professor Prue Vines, the rate of Aboriginal people who make wills is about 2% compared to the general population rate of about 55%. Not having created a Will myself, I thought this would be a perfect opportunity to lead by example and share my learning along the way. The main reason I haven't got around to making a Will is that I really don't like to think about dying.
I do however often think about making sure my family is cared for when I die. If you die without a Will, you are said to have died intestate. That doesn't mean you died in Tasmania, heaven forbid, it actually means that your Estate may not be distributed to your beneficiaries (wife, husband, children etc.) in the way you wish. This issue can be made worse with traditional adoption, as laws of intestacy don't always recognize adopted people within these families.
We've all heard horror stories of families fighting over an Estate in times of grief. The best way to avoid this is by leaving some clear direction on how you would like your assets passed on when you die and who you would like to administer your Estate. If for example it is your culture or custom for the eldest son to handle these affairs, this can be made legal in your Will. Without a Will these culture/customs won't be recognized, and the Estate would more than likely be administered by the Public Trustee.
The person who administers a Will is called an Executor and it is their job to ensure the completion of the variety of legal requirements in managing your Estate. If you think there is a potential for conflict between you Executor and beneficiaries it may be wise to appoint an independent Executor like the Public Trustee or a lawyer. The benefit of doing this is that they have conflict management skills and knowledge of law, accounting, business practices and taxation. The downside is that these services come at a cost.
Having a son with a disability was a big motivational factor for me in getting a Will prepared because it provided our family an opportunity to name his guardians (who will care for him if my wife and I pass away) and establish a trust to pay for his care, ensuring that he isn't a financial burden. Other times that it is really important to think about making or updating a Will is:
Marriage

Separation or Divorce

Entering a de facto relationship

Birth of a child or grandchild

A change of your assets or financial situation

Death of a spouse or partner

A change to a beneficiary

Retirement
So hopefully by this stage I've convinced you to make a Will, but you may not know where to start. The easiest way to start is go to the Public Trustees Australia website http://publictrusteesaustralia.com and click on the link through to the State or Territory that you live in. When you make an appointment to see the Public Trustee, they will need to get some important information from you including proof of identity (license), list of assets, bank and superannuation details. It might also pay to check if you have any insurance coverage with your superannuation provider, this would also be important to mention in your will.
I'm feeling a sense of relief now that I've finally got a Will. I've been meaning to do this since my son was born and never got around to it. It's good to know that what I have will go to where I want it to and that my son will be cared for should anything happen to my wife and I. Now I just have to remember to update it every 5 years or so as life happens and circumstances change.
Follow this link http://www.tag.nsw.gov.au/wills-for-aboriginal-people.html to download a free copy of the Aboriginal Wills Handbook.