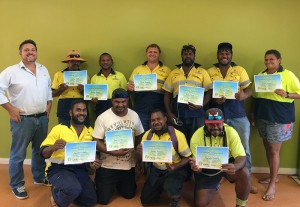 As we celebrate the half-way point in our three-year Yarnin' Money program, ICAN reflects on the opportunities and challenges we've faced in developing and delivering a culture-centred financial literacy training program to remote communities across Cape York…
Yarnin' Money, funded by Financial Literacy Australia and the Department of Social Services, is a three-year outreach program aimed at providing financial literacy tools and skills for local service providers and community residents in remote Aboriginal and Torres Strait Islander communities across Far North Queensland. The program aims to overcome geographical barriers by providing local financial literacy training coupled with ongoing support, by connecting ICAN's financial counselling and literacy services to remote communities across Australia.
In creating Yarnin' Money, it was ICAN's goal to take a strengths-based approach to delivering financial literacy education. Here, we don't look at participants as 'deficient' in skill, ability or knowledge. Rather, Yarnin' Money is developed and delivered through a culture-centred training approach, which recognises existing Indigenous cultural worldviews and knowledge as the foundation to build new skills. We spent our first six months in the development stage, with the drive to create a training program that would make financial literacy meaningful for Aboriginal and Torres Strait Islander participants. "The training is based on the concept of 'yarnin', and takes participants on a journey to look and see money – and money issues – from a historical, cultural, personal, family and community view" said Eddie Buli, Yarnin' Money Coordinator and Trainer. "The delivery of the training is about our mob, our communities, our style, our yarn and the way we yarn."
In our first year of service delivery, the team has delivered seven training sessions: five Yarnin' Money – Service Provider sessions to: the Northern Peninsula Area (NPA, located at the top tip of Cape York), Napranum community, Cairns and Townsville; and two Yarnin' Money with the Mob sessions to Weipa for Rio Tinto and the NPA.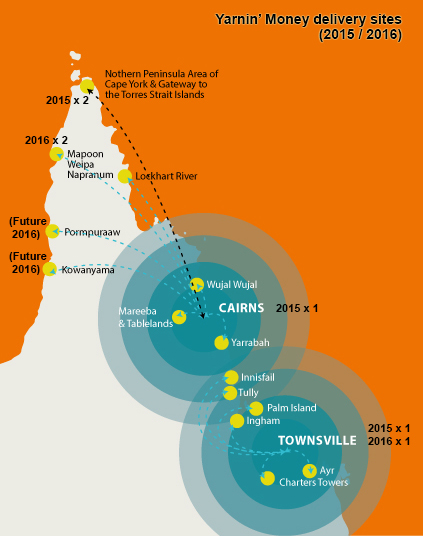 There are a unique set of opportunities and challenges for remote service delivery in financial literacy education. First – the challenges!
1) Finding participants and filling seats can – at times – be challenging!
In our first year of training delivery, we've had a wide range of participation levels in the Service Provider and With the Mob courses. In our remote community delivery of the Service Provider course, we have consistently found lower participant numbers than the 'with the Mob' counterpart. What we know – is that local service providers are in high demand in their communities, and that work-related and community issues may arise on the day of training, which can all impact on whether or not they can attend. We are very aware that – because of the positions that local service providers hold in their communities – NGOs and all levels of government often ask them to partake in a wide range of community engagement activities with varying levels of commitment.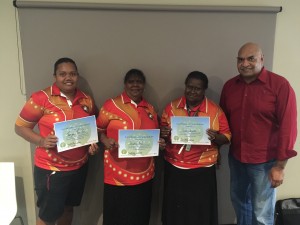 We recognise that it is a huge ask of local service providers to give up their time to do the Yarnin' Money training and we are grateful for:
-> Their advice and the wide range of support they provide to assist ICAN with the logistics of delivering Yarnin' Money in their communities;
-> The providers who are able to attend our training;
-> The overall support we receive from the communities to be able to deliver Yarnin' Money.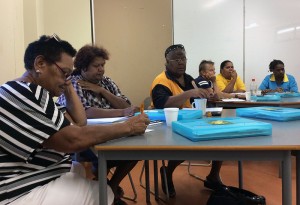 2) The ability to adapt is necessary.
Unpredictable circumstances can arise the moment we arrive to the community, so the trainers have to be able to easily adapt. For example, we had a trip scheduled for one community in late 2015 which was not able to commence when local service providers had to suddenly prepare for the Prime Minister's visit.
3) Transport remains a big issue – for both trainers and participants.
Although some of the communities we deliver training to, are small ones, some communities are clustered together, such as the five Aboriginal and Islander communities in the Northern Peninsula Area (NPA). At times, the team has scheduled training in a centralised location, to cater to the needs of all community members, and this has been able to work for some Service Provider training. At other times, centralised locations cannot always meet the needs of all participants. Being mindful of the transport issues for communities of this nature is helpful for delivering Yarnin' Money in the future.
*********
However, the opportunities have so far outweighed the challenges. Our greatest opportunity thus far, has been finding innovative ways to marry culture and financial literacy and to deliver the material in ways that will make personal meaning for Yarnin' Money participants. Using a narrative approach to training has created opportunities for two-way and peer-to-peer learning to occur, through yarnin'. Here, there are no trainers or students, just the yarn about historical, cultural and present day views of the role of money in one's life.
The Yarnin' Money team was recently invited to Weipa, to deliver training to eighteen Rio Tinto trainees, as a part of their induction training. It was a fantastic opportunity to be able to highlight the role of financial literacy education to new workers in the mining industry. Many of the eighteen participants who took the training in late June commented that the interactive Money Smart Budget activity was the highlight of the day:
"I will definitely be using the budgeting tool given, to help me accomplish my future goals."
"Definitely the budgeting calculation program. I think it's going to make my budgeting a lot clearer."
"Money budget was great!"
"Money smart budget was great."
"Budget is now important to me."
"It has changed my personal view of how to budget and manage money properly."
"Budgeting skills was excellent."
The Yarnin' Money training also presents an opportunity for participants to voice concerns about consumer issues affecting their communities, and for the team to follow these up through financial counselling or putting the participants in direct contact with consumer regulators who can address the systemic nature of the issues. We had a recent example of a systemic issue arising from the NPA Service Provider training, when one participant raised a matter they were personally dealing with relating to a recent vehicle purchase from a car yard in Cairns, where finance was also provided. This catalysed discussion among participants, who were also affected by the same issue, but had not previously spoken to any one about it. Word of mouth quickly spread around the communities that day, and the Yarnin' Money team took ten similar complaints. ICAN has since been working with the regulators on the matter.  Here, Yarnin' Money can utilise those links between financial literacy outreach and financial counselling to achieve outcomes for Aboriginal and Torres Strait Islander peoples living remotely.
As we move into the second half of our three-year program, we'll continue to tackle the challenges and communicate the opportunities and outcomes, in order to continually refine the training and its delivery.
There have also been recent developments for the Yarnin' Money program!  First, the Commonwealth Bank has come onboard as a sponsor, which will provide program sustainability and broaden the reach of the training delivery.  Second, the Yarnin' Money team will be heading to the Pormpuraaw and Mapoon communities in mid-August to deliver training.  And finally, the team has also been invited to present in Auckland, New Zealand in early October, exploring Indigenous cultural perceptions of money and wealth via the Yarnin' Money Program.  Stay tuned for the next Yarnin' Money update!