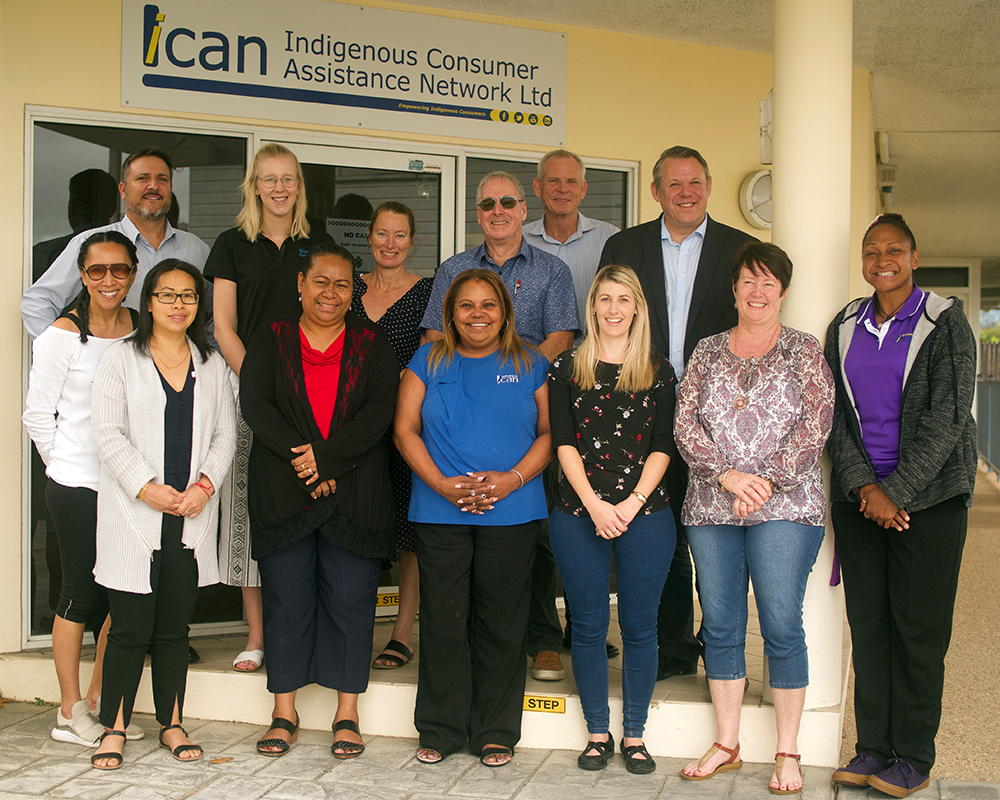 Financial Counsellors in Cairns were treated to a unique meet and greet opportunity recently. ICAN extended an invitation to meet Mr David Locke, Chief Executive Officer and Ombudsman of the Australian Financial Complaints Authority (AFCA) on Thursday, 15 August.
Mr Locke met with financial counsellors from all over Cairns, including The Salvation Army's Moneycare; Shelter Housing Action Cairns (SHAC); UnitingCare; The Benevolent Society; the Tablelands Financial Counselling Service; and Len Curran, Regional Manager at the Office of FairTrading.
This was the first opportunity for Cairns financial counsellors to personally meet with Mr Locke and to hear directly about AFCA's functions and strategy since its establishment in November 2018.
ICAN Financial Counsellor, Unaisi Buli, was thrilled to be part of the event. "I appreciated that David, being the CEO and Ombudsman of AFCA, took time out of his hectic schedule to personally meet with us. I respect AFCA's strategy, including their 'Principles of Fairness' when dealing with client cases. David is so approachable and a huge advocate of financial counselling. The fact that AFCA employs former financial counsellors and consumer advocates is a testament to their commitment to both the sector and their clients."
Ken Smithson from Moneycare also appreciated the session. "I found the meeting useful in terms of getting a first hand, frank and knowledgeable senior executive insight into how AFCA is settling in, its modus operandi, emerging issues and the fraught environment in which we all work. David is a great speaker, and the small, informal format was a rare opportunity. It was also great to mingle with other financial counsellors and Len Curran from Fair Trading."
Meeting host, Jon O'Mally, said "As Chair of FCAQ and ICAN's Operations Manager, visits by senior industry leaders such as Mr Locke strengthen essential relationships with the financial counselling sector. It's an opportunity for financial counsellors to have direct conversations that can empower them to act on the client's behalf, like in this case, knowing they have a strong relationship with AFCA."
Why AFCA?
Mr Locke said "AFCA exists to deliver fair solutions to financial disputes, to provide access to justice for consumers and small business owners, and to work with industry to improve its practices and minimise disputes arising in the first place. Consumer organisations see thousands of people every year and have unique perspectives that can help inform AFCA's work."
"We have ensured that our Consumer Advisory Panel represents the community we serve, including older Australians, Indigenous and Torres Strait Islanders, vulnerable communities and those with financial difficulties", said Mr Locke.
Noema Mahutariki from The Benevolent Society said 'I love the fact that there is an organisation that will put into place action that is much needed to seek remedies for consumers who have been unfairly treated by a financial system that they have not understood. It's allowing people to restore the balance of power to a level playing field. I also love seeing David's passion in the human services and the fact that he uses his vast knowledge for those in our community who are vulnerable and don't have that voice – love your work AFCA!'
ICAN would like to thank Mr Locke for his time and generosity in meeting with Cairns Financial Counsellors. For more information about AFCA, please visit https://www.afca.org.au/.