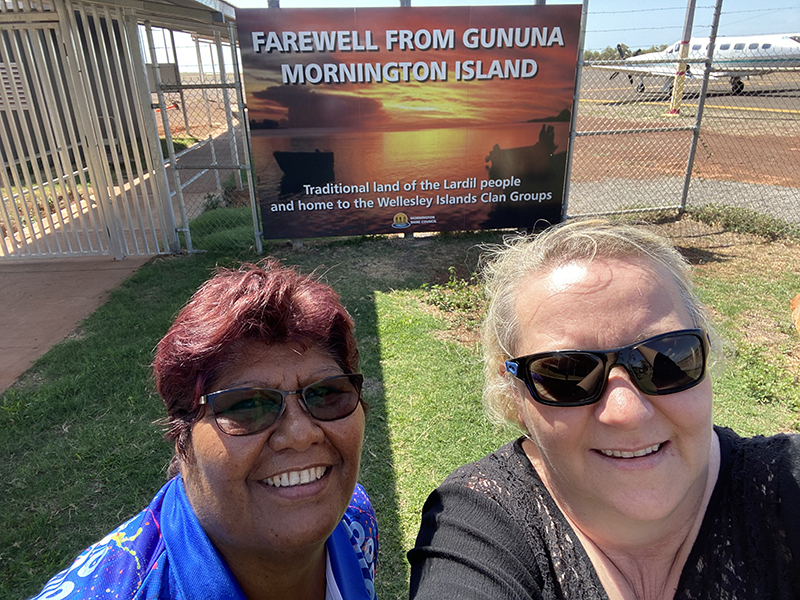 This month, we reflect on: the expression it takes a village to raise a financial counsellor and the road we travel together with our students and graduates, on their journey to become practicing financial counsellors.
When Pearl Turner, Financial Counsellor and Team Leader with Save the Children's Financial Wellbeing program, asked ICAN to deliver Yarnin' Money to Gulf communities: Doomadgee, Normanton and Mornington Island over the last two months, we reflected on how far we've travelled together with Pearl in her journey from financial capability worker who rocked up to the ICAN booth at the national financial counselling conference, to becoming a financial counsellor and now delivering financial counselling to three remote communities and heading the financial capability team as Team Leader, in the Gulf of Carpentaria for Save the Children.
Yarnin' Money Trainer Majella Anderson first met Pearl in May 2017, when Pearl requested information about ICAN's Indigenous Financial Counselling Mentorship Program and the Commonwealth Bank scholarships available to Indigenous students seeking to undertake the Diploma of Financial Counselling. Reflecting upon her time undertaking the diploma, Pearl remarked at the ongoing support she received from both ICAN and ICAN Learn, that helped establish the financial counselling role she currently holds.
"When I was finishing my diploma, I had to do 220 hours of Learning in the Workplace. But because I live in Normanton which is quite remote, there were no senior financial counsellors who could oversee my placement work," said Pearl. "So Robyn from ICAN Learn, came up to Normanton to help oversee my Learning in the Workplace hours."
In addition, ICAN offered on-site learning (at our Cairns office) for Pearl, who flew down to Cairns regularly to sit with our financial counsellors during client sessions, which helped Pearl in the early days of her placement.
"I flew down every other week and sat with the financial counsellors at ICAN, observing them doing work with clients," Pearl recalled. "Watching other financial counsellors work with clients helped me to get my head around the financial counselling process."
"It was a big learning curve and there were times during the Diploma of financial counselling that I just felt like giving up, because I work in a remote area, but the support I received from Robyn really helped me to get through it all," she said.
ICAN Learn's Teaching, Learning & Course Manager, Robyn Shepherd-Murdoch spoke about her time heading out bush with Pearl in May 2019. "I was asked by ICAN Learn to oversee some of Pearl's placement in her agency at Save the Children in Normanton, to support her to achieve her placement hours and to oversee her case work," said Robyn. "Over two weeks, we travelled to Normanton, Doomadgee and Mornington Island to work in all of Pearl's regular outreach sites."
"Those two weeks were a real eye opener and things just really started falling into place for me," said Pearl. "With Robyn's help and from my diploma course, I learned how to put my financial counselling cases together, do my case notes and how to support my clients."
"With the knowledge she received from the course, Pearl is able to better support the community," Robyn said.
ICAN continues to provide support to Pearl in her role as financial counsellor and team leader of the financial capability team. Over the past two months, the Yarnin' Money team delivered financial capability training to her staff and to the wider communities, in Normanton, Doomadgee and Mornington Island.
"I'm proud that we have an ongoing relationship with Pearl and the communities she services," said Majella Anderson, Yarnin' Money® Trainer.
"We've come a long way together since Pearl came up to our booth at the FCA conference in 2017 and then joined the Mentorship Program to start her journey as a financial counsellor."