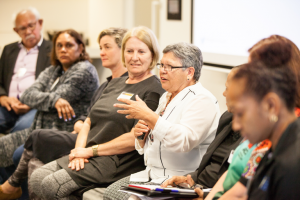 ICAN Financial Counsellors, Unaisi Buli and Martina Kingi packed their bags and headed down to Melbourne earlier this month to participate in the second ever Indigenous Superannuation Summit organised by the Australian Institute of Superannuation Trustees (AIST).
AIST along with the Financial Services Council, the Association of Superannuation Funds of Australia, Industry Super Australia, Women in Super and First Nations Foundation have joined forces with a number of superannuation funds to form the Indigenous Superannuation Working Group – a cross industry commitment to effectively establishing and meeting the needs of Aboriginal and Torres Strait Islander people.
A highlight of the summit was a session that provided insights from Indigenous financial counsellors, facilitated by First Nations Foundation CEO, Amanda Young. "The Australian superannuation system is meant to benefit all Australians, unfortunately what we know is that the unique needs of Aboriginal and Torres Strait Islander peoples aren't currently being met", said Ms. Young.
The superannuation industry learned from the Indigenous financial counsellors presenting about many of the challenges working in the superannuation space including;
up to 90% of financial counsellor workload in Indigenous communities is absorbed by superannuation cases,
that paperwork and identification processes are very hard to navigate, that the superannuation industry doesn't formally recognise the services that financial counsellors provide
and that some superannuation funds don't offer early access to balances on the basis of hardship, which adversely affects Indigenous people.
Over the next two years the Indigenous Superannuation Working Group will continue to work hard to get better superannuation outcomes for First Australians. First Nations Foundation CEO, Amanda Young said, "We'd like to thank the ten superannuation funds involved for sponsoring financial counsellors from all over Australia to both attend and raise their concerns at the event, it's an important step in the journey."
A report on the summit will be released over the coming months, so follow the First Nations Foundation website at www.fnf.org.au or watch this space.