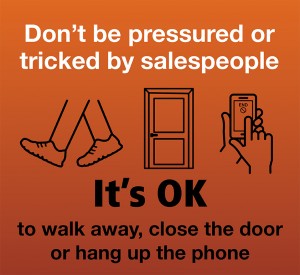 Indigenous consumers, who are regarded as vulnerable targets for unscrupulous salespeople, are being advised 'it's ok to walk away' as part of an education campaign by consumer protection agencies across Australia.
Independent Member of the National Indigenous Consumer Strategy (NICS) Aaron Davis said one aim of the campaign is to make Aboriginal consumers aware of their consumer rights and have the confidence to say no.
"We hope to empower Indigenous consumers in urban, regional and remote areas to resist high-pressure sales tactics and be aware of their consumer rights particularly when approached uninvited at shopping centres, car parks, in their communities through door knocking or on the phone," Mr Davis said.
"Over the years ICAN has witnessed, investigated and reported many cases of companies and salespeople targeting Indigenous consumers who may be disadvantaged by their geographical isolation, lack of choice and competition, language barriers or limited financial literacy."
Federal, State and Territory government agencies in the past have taken action against suppliers and sellers of training courses, mobile phone services, electronic goods, photography packages – even water coolers and first aid kits using high-pressure sales tactics.
"Many consumers in Aboriginal communities sign consumer contracts when they don't realise what they are signing up for. Some contracts have committed the consumers to a payment plan they can't afford, for goods and services they don't really need or want," Mr Davis said.
"Just last month ICAN reported on a credit provider prosecuted by ASIC, who had been offering car loans to members of a remote community at an annual interest rate of 48 per cent and charged exorbitant brokerage fees. The lender was found to have contravened consumer credit laws and engaged in unconscionable conduct.
"Our aim is to make Aboriginal consumers less susceptible to this type of bad behaviour by traders through education and empowerment."
The nationally coordinated campaign will involve community presentations, the distribution of information material and Do Not Knock stickers, and will be backed up by media and social media messaging.
"Aboriginal consumers who don't want salespeople coming to their homes are encouraged to put up a 'Do Not Knock' sticker on their front door, as salespeople who ignore this request by the consumer are breaking the law and may face a fine of up to $50,000," the Independent NICS member said.
"We also want Indigenous consumers who have made a purchase or have signed a contract under these circumstances to contact consumer agencies and lodge a complaint so these issues can be resolved and appropriate action taken.
"By telling Indigenous consumers it's ok to walk away, we hope that they will have the confidence to reject unwanted proposals from traders and not fall victim to dodgy sales tactics by signing consumer contracts or making purchases they may later regret."
Watch ICAN's Eddie Buli message to Indigenous consumers on ABC's 'The Checkout' below.