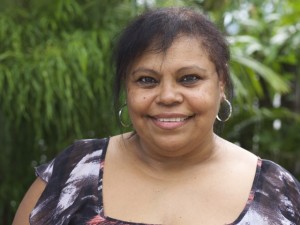 This month, we feature Sandra Rosas, the newest staff member to join the ICAN team!
Hi, my name is Sandra Rosas.  I have joined the ICAN team as a Financial Counselling Support Officer, within the "Indigenous Financial Counselling Mentorship Program", an ICAN & Commonwealth Bank initiative that provides Diploma training in financial counselling to Aboriginal and Torres Strait Islander people.
I started with ICAN in early December 2014 and I am already learning and gaining skills in client intake and interviews, client file management, database input and credit file report requests for our clients.  My previous work roles include working in:
a computer/IT business;
an employment service assisting Indigenous people in remote locations to access employment services to gain employment; and
a large local health service here in Cairns that delivers health services to remote communities in Cape York.
Undertaking the Diploma of Community Services (Financial Counselling) training through ICAN's Indigenous Mentorship Program is something I am really excited about. I will gain a nationally recognised qualification and the skills to provide professional a Financial Counselling service to Indigenous people in the Cairns region.  And I will receive support and mentoring all through the training from Majella Anderson, ICAN Training Co-ordinator, the Central Institute of Technology trainers, my Supervisor – Bettina Addo, other ICAN staff and of course, the other participants on the program.
My family comes from the Atherton Tablelands and I have a very large family/community network.  The Atherton Tablelands is an agricultural area and many Indigenous families relied on seasonal farming work such as potato, avocado, mango, tomato, lychee, banana and tobacco picking.  As I grew older and found myself as a single mother, I had to learn how to budget my money to ensure my little family had a roof over our heads, food in the cupboard, school clothing and all the other needs that go with raising a family.   It was my personal experiences of being able to budget and manage my income over the years that drew me to apply for the Financial Counselling Support Officer at ICAN.
This position gives me personal satisfaction in knowing that I can really help Indigenous clients who are experiencing financial difficulty through working with them on budgets and financial goal setting.  I believe I have achieved control and discipline with my own financial responsibilities through setting realistic and achievable budget goals throughout the years and as my life circumstances have changed.   And if I can share this insight and inspire my clients here at ICAN, then that would give me great joy just knowing that I have helped someone else on the road to financial resilience.
For more information on the ICAN Indigenous Financial Counselling Mentorship Program go to http://ican.org.au/programs/ .