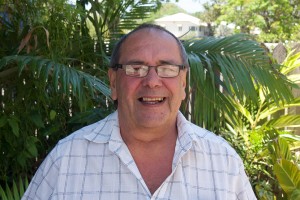 This month, we feature Clifford Little, the newest staff member to join the ICAN team!
My name is Clifford Little and I'm a Financial Counsellor (Associate) in training. I am descended from the Larakia people on my Grandfather's side and the Mt Margaret area in South West Queensland on my Grandmother's side.
 My working background is wide and varied. I've worked in the contracting, administrative and sales areas in private enterprise and have had over 25 years working in the Federal and State Governments at Project Officer and Managerial levels. Each job I have had has taught me different things about people, communication methods and life in general, which has been a continuous learning experience. I've learnt many skills along the way, met many interesting people and their approach and philosophy to life has definitely broadened my horizons.
Through the years and particularly in recent years I've wanted to do more than deliver Government services. I wanted to work at grassroots level with community people. General counselling was what I initially wanted to do in helping community. I learned about financial counselling and started researching. I saw its immense value realised I would like to be a part of it. Working at ICAN has been a great learning curve, and I receive a lot of support from Management and colleagues. There is a huge knowledge base and a lot of experience in ICAN and it is certainly benefitting me.
Since July, I've been undertaking the Diploma of Community Services (Financial Counselling) through ICAN's "Indigenous Financial Counselling Mentorship Program" – it's been been a great learning experience so far! As students, we are combining our tutorial knowledge with our practical experience, which I believe is an effective combination for client casework. The Mentorship Program is a great program to be part of, especially doing the course with fellow Indigenous students. We do a collaboration workshop every Friday during our face-to-face block training sessions and I am impressed with the vast knowledge and experiences of fellow students and how they deal with particular financial counselling situations locally. I feel like the course provides students with a range of resources that will equip us to become great financial counsellors!
For more information on ICAN's Indigenous Financial Counselling Mentorship Program, go to http://ican.org.au/programs/.