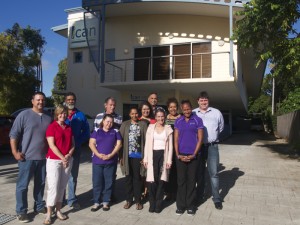 The ICAN team are now settled in at our new office location at 209 Buchan Street, Bungalow (Cairns).  ICAN's head office in Cairns is the hub for ICAN service activity, including: financial counselling, financial capability program, financial education training for jobseekers and our award-winning "Indigenous Financial Counselling Mentorship Program".
ICAN's financial counsellors are now receiving clients at the new location, which is equipped with private counselling rooms and a children's play area.  Would you like to see a financial counsellor at ICAN? Contact us at: 1300 369 878 or (07) 4031 1073 to book an appointment.
What is financial counselling?
Financial Counselling is an essential service that is free for people experiencing financial stress. It can assist people in many ways and can alleviate immediate anxiety and stress, particularly when people are being harassed by debt collectors. Financial counsellors do not provide loans; instead they provide essential information regarding a person's financial situation and can assist by providing an array of options for people regarding their situation. Financial counsellors can be mediators between a creditor and the clients, can provide solutions for both parties and identify if breaches have occurred when relating to credit contracts.
ICAN financial counsellors are experienced and qualified under the QLD State Association of Financial Counselling (Financial Counselling Association of Queensland). The Service has two senior financial counsellors with over 20 years' experience between them and two Financial Counselling Support Officers currently undertaking their Diploma of Community Services (Financial Counselling).  On-site financial counselling support is also available under ICAN's 'Money Management' Programs located in the Yarrabah and Palm Island Aboriginal communities.  The service is strictly confidential and independent.