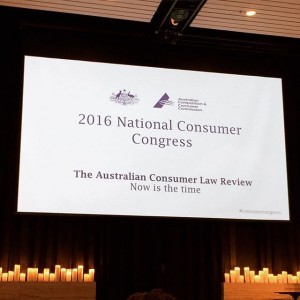 Last week, ICAN staff attended the 2016 National Consumer Congress and the Ruby Hutchison Memorial Lecture, hosted by the Australian Competition and Consumer Commission (ACCC).
This year's theme:  "A fit-for-purpose consumer law? The Australian Consumer Law Review" was a timely discussion among regulators, advocates and consumer organisations from across the country, on the upcoming review of the Australian Consumer Law, protecting consumers online, and issues affecting disadvantaged and vulnerable consumers. The Congress included key note speakers who addressed issues of: Making markets work for consumers, improving wellbeing through effective regulation, areas in which regulation needs to keep pace with new online and energy sector technologies and an insightful perspective on product safety in Australia.
ICAN Co-founder, Carmen DanieIs participated in the afternoon panel discussion on empowering disadvantaged and vulnerable consumers.  The panel reflected on some of the current and emerging issues facing vulnerable consumers and discussed whether disadvantaged consumers were better or worse off since the implementation of the Australian Consumer Law. Ms. Daniels discussed the challenges faced by Indigenous consumers in terms of structural, geographical and cultural disadvantage and the need to mitigate consumer exploitation specifically targeting Indigenous communities. Case studies were provided to highlight the ongoing challenges of door to door trading and its impact on the Indigenous community.
ICAN also presented in the soapbox session at the end of the day. Soapbox presenters identified gaps in current regulation and spoke of innovative initiatives that are assisting consumers to access the complaint process. Jon O'Mally, ICAN Business & Sector Development Manager presented on the FNQ Indigenous Consumer Taskforce, a partnership between ICAN and frontline community services, state and national regulatory bodies and ombudsman schemes. Jon highlighted how the development of the task force was underpinned by the need for a coordinated approach to tackling Indigenous consumer disadvantage by pooling resources to achieve better outcomes for Indigenous consumers in Far North Queensland.
As we move towards the upcoming ACL review, ICAN is pleased with the announcement by the Australian Competition and Consumer Commission's Chairman Rod Sims that Indigenous consumer protection will be elevated to an enduring compliance and enforcement priority, recognising that Indigenous consumers, particularly those living in remote areas, continue to face challenges in asserting their consumer rights.*
*Source: Rod Sims, Making markets work for consumers, 2016 National Consumer Congress, Sydney.
https://www.accc.gov.au/speech/making-markets-work-for-consumers