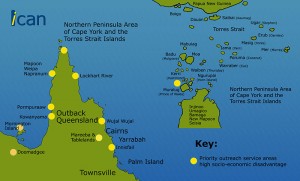 ICAN will provide outreach financial literacy training to remote communities across North Queensland and the Torres Strait in 2015 in a new program funded by Financial Literacy Australia.  The Grants Program run by Financial Literacy Australia recognised ICAN's extensive experience in delivering Indigenous financial literacy programs late last month by awarding the Yarnin' Money Project $274,000 over a three-year period. Yarnin' Money was 1 of 19 successful projects to be funded in the inaugural grants round. The Financial Literacy Australia grants program received over 245 concept proposals from a great range of non-government organisations interested in financial literacy.
The Yarnin' Money Financial Literacy program is targeted at service providers and residents in some of Queensland's most vulnerable and disadvantaged remote Indigenous communities (see map). The three-phase financial literacy training program will develop and deliver two financial literacy training tools for local service providers and community residents.  Both training programs will be offered for online professional development of financial counselling/capability workers and community service providers nationally.  To determine our impact, evaluation of the program's training resources and delivery will be a key ongoing focus of the program over the three year period.  Through action research, our evaluation will tell the story of the program's 'Theory of Change' with tools created to measure how the program will assist Indigenous peoples living remotely to address barriers to financial literacy and move along pathways from financial 'crisis' to 'thriving' towards financial (& social) inclusion.
Financial Literacy Australia (FLA) is a not for profit organisation committed to advancing financial literacy in Australia*. The national financial literacy grants program sought proposals that would:
• Work to improve the financial literacy and money skills of Australians;
• Provide practical materials that will advance financial literacy in Australia;
• expand the body of knowledge around financial literacy*.
For more information about Financial Literacy Australia and the grants program, see:
*Source: Financial Literacy Australia