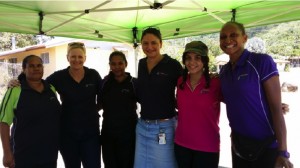 ICAN has provided the No Interest Loan Scheme to the Yarrabah and Palm Island communities for over 5 years and our clients from these communities have been able to access white goods and household furniture for their homes.
ICAN identified a need to expand the range of goods available under the scheme and held a Community BBQ at Yarrabah to promote the new NILS products.  These new products include laptops, digital TVs, kitchen appliances, generators and garden and outdoor packages. With Christmas just around the corner, this is an ideal time to access NILS which will take some of the financial pressure and burden off clients rather than utilising high interest loans from mainstream quick cash lenders.
Special guests – Kelly Hodgman and Francine O'rourke – from the Energy Water Ombudsman Queensland's office joined us on the day to tackle energy issues and energy bill concerns being experienced by Yarrabah residents.
The BBQ was a great hit with the community and we were able to have face to face engagement with over 80 Yarrabah residents and staff from various organisations on the day and received great feedback from the community about the new products.  The steak burgers were a hit too!
What is NILS?
The NO INTEREST LOAN SCHEME (NILS) is designed to provide individuals and families on a low income access to safe, fair and affordable credit.  There are NO fees, charges or interest and loans are for essential goods and services such as:
·      Whitegoods
·      Furniture
·      Electronics
·      Appliances
·      Tools and equipment
·      Outdoor equipment
NILS has helped many Indigenous people to live more comfortably by acquiring essential items such as a refrigerator to store medication, washing machines to meet the needs of larger families, generators due to lack of access to electricity and garden packages that lifted the pride of one of our clients.  "Before, I'm feeling shame of my home… because we never had nothing here… didn't have any couch, but now, I got them things, make me feel happy. [That] mower -look- our yard real clean.  It wasn't like this before, we just been taking no notice of our yard before, because we never have them things – mower, whipper-snipper, couldn't afford it" Resident of Yarrabah Aboriginal community, 3 x's NILS Recipient (See: 'ICAN NILS On the Move' – http://youtu.be/fO-oIDvk3Kc).