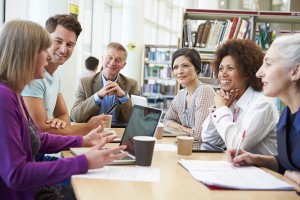 In August, ICAN shared with readers its plans for moving towards creating our social enterprise. We continue on our journey to develop ICAN Learn, a registered training organisation (RTO) focused on increasing professional development opportunities in the national financial counselling, capability and resilience sectors. ICAN needs its partners and stakeholders to tell us what is needed to develop a best practice approach.
We are creating an opportunity for our community to do that by sharing your thoughts/ experience through one or both of the following short (2- minute) on-line surveys as appropriate:
1) Agency Manager Survey: https://www.surveymonkey.com/r/icanlearn1
2) Financial Counselling, Capability, Resilience and Emergency Relief Workers: https://www.surveymonkey.com/r/icanlearn2
******
ICAN Learn is a division of the Indigenous Consumer Assistance Network Ltd (ICAN) an organisation with extensive experience in financial counselling, consumer advocacy, provision of microfinance (NILS) and professional development training, including the award-winning Commonwealth Bank-sponsored Indigenous Financial Counselling Mentorship Program.
ICAN Learn will also develop career pathways through study opportunities. This will include:
The qualification to become a Financial Counsellor,
Skill Sets in financial literacy,
professional supervision education with a train-the-trainer approach
a proposed Advanced Diploma in Financial Counselling.
The development of ICAN Learn is backed by our long-standing partnership with the Commonwealth Bank. The ongoing support of the Commonwealth Bank provides scholarship opportunities for Indigenous people to become qualified financial counsellors. The Indigenous financial counsellor workforce has increased ten-fold since the partnership began. These national scholarship opportunities will be expanded through ICAN Learn in 2017 to include people from culturally and linguistically diverse groups across Australia.
As a social enterprise, any profits from ICAN Learn will be reinvested back into ICAN, to continue our provision of financial counselling, capability, resilience and consumer advocacy services delivered to some of Australia's most disadvantaged Indigenous communities.
What's a 'Social Enterprise'?
A social enterprise is a business created to further a social purpose in a financially sustainable manner**. NESsT explains the social enterprise as a model that applies "business principles and practices to achieve social good" where financial returns "are invested back into the community to further their social purpose." ICAN believes that moving its training arm towards a social enterprise model, can help to achieve several of key goals:
To support the Australian Vocational Education and Training landscape with transparent, ethical training providers that care about the quality of training provided to students and the consequent outcomes for consumers;
to provide innovative ways to sustain our consumer advocacy work. Indigenous consumer advocacy is the reason ICAN was formed.  While we continue to excel in this space to achieve great outcomes for Indigenous consumers, this needed work remains an unfunded activity.  A social enterprise model allows ICAN to generate income from its training activities, which will be directly reinvested into our mission: funding our financial counselling, capability and consumer advocacy activities, to continue Empowering Indigenous Consumers.
to develop training expertise and development in a socially responsible manner, to achieve wider impact for the communities we service.
Since 2010, ICAN has been working in partnership with the Commonwealth Bank and Central Institute of Technology, WA (CIT) to deliver the Diploma of Community Services (Financial Counselling), via our national "Indigenous Financial Counselling Mentorship Program". The program has always been premised upon providing quality, professional training to Indigenous people entering the financial counselling sector, with causal strands built into the program to affect purposeful and measurable change for student participants and the community services organisations they work for. ICAN has successfully delivered three Mentorship Programs, with the last two deliveries (2013-14 & 2015-16) made available to student participants from across Australia.  In this time, ICAN has enjoyed a high student retention rate (95%), and has graduated 36 people through their Diploma of Community Services.
As a consumer organisation that has serviced the Aboriginal and Torres Strait Islander community for over ten years, ICAN initiated exposure of the exploitation of Indigenous people by unscrupulous training providers, perpetuating Indigenous disadvantage, and exacerbating financial exclusion of Indigenous peoples and other groups experiencing vulnerable circumstances. ICAN directly enabled the rescinding of a significant number of contracts between certain unscrupulous training providers and Indigenous students, resulting in refunds and ongoing awareness of the need for quality, transparency and equity in the training practices and accountability to ensure that education underpins the building of advantage and empowerment, and not cause further disadvantage.
Since the introduction of the VET FEE-HELP student loans scheme in 2008, "a surge of enrolments driven by unscrupulous VET FEE-HELP providers" targeting low income and disadvantaged people, resulted in "the total annual value of VET FEE-HELP loans provided to students" to increase from "$25.6 million to $1.76 billion" over five years*. In 2016, the Australian Competition and Consumer Commission (ACCC) (2016) found training provider Careers Australia to have specifically targeted people on low incomes, including residents of the Yarrabah Aboriginal community located in Far North Queensland, using inducements and high-pressure sales tactics to sign eighty residents up to business and marketing diploma-level courses to the value of $20,000 each, totaling $1.6M of student loan debt incurred in Yarrabah alone for courses never commenced (Branley, 2016). The specific targeting of Indigenous and other groups of people subject to low incomes and vulnerable circumstances, has led to the recent overhaul of VET student loans by the federal government, to ensure training providers are delivering quality training packages that meet student needs.
ICAN Learn wants to influence education and empowerment through becoming an ethical training provider seeking to deliver quality training in a transparent manner. The social enterprise will focus on linking education to empowerment of individuals and community.
Our track record evidences our training successes, where ICAN regularly reports on training outcomes of participants.  With assistance from Ernst & Young and the Commonwealth Bank, we measured the outcomes of our 2012, 2014 and 2016 programs, across four domains:
1) Increased job performance & increased employability;
2) Increased financial resilience;
3) Increased sense of pride & satisfaction from helping and empowering own community &
4) Personal empowerment.
ICAN measured the aspirations of student participants for undertaking the Mentorship Program, the distance travelled over the course of the program across the four domains, as well as how much the Mentorship Program met their expectations. We regularly report on student progress through this E-News platform, keeping our readers up to date on progress, challenges and outcomes.  Over the next two years, we'll not only be measuring individual outcomes of the Mentorship Program, we'll also be looking at its wider impact on communities, through Carmen Daniels' Masters research study linking social impact to education.
******
ICAN Learn is expecting to be ready for accredited training business by the middle of 2017, but is open to discussion and delivery of non-accredited training in the interim.  For more information on ICAN Learn, contact Bernadette Pasco, Business & Sector Development Manager, at: bernadette.pasco@ican.org.au.
Thank you for the investment of your time in undertaking our survey!
* Commonwealth of Australia. (2015). Higher Education Support Amendment (VET FEE-HELP Reform) Bill 2015 [Provisions]. http://www.aph.gov.au/Parliamentary_Business/Committees/Senate/Education_and_Employment/VET_FEE_HELP_Reform/Report.