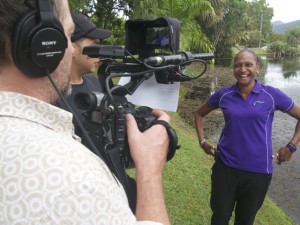 ICAN's Indigenous financial counsellors will feature in a new NITV series 'On the Money', to be aired later this year. The series will comprise fifteen three-minute episodes on a range of consumer/financial topics. The NITV commissioned production crew visited ICAN last week to develop scripts with the team and shoot their expert financial and consumer messages.
ICAN CEO, Aaron Davis said, "ICAN is excited for the opportunity to get our targeted consumer messages out to a wider Indigenous audience, the episodes are all about the issues our financial counsellors deal with on a daily basis."
When asked about the production process ICAN Financial Counsellor, Unaisi Buli said, "it was fun getting creative with the team and exploring what the key messages are within each topic. I can't wait to see how it all turns out."
Watch this space for further updates on the upcoming series release.